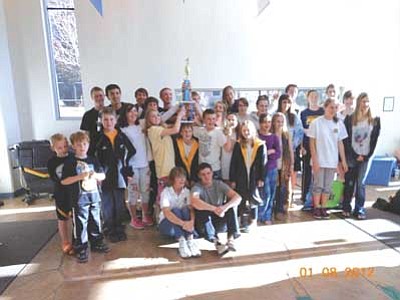 Originally Published: January 11, 2012 10:01 p.m.
The Prescott Swim Team hosted the 5th Annual Prescott Plunge Swim Meet at the Yavapai College Pool Jan. 6-8, and turned in a host of impressive performances.
Twelve teams and a record 197 swimmers attended the meet.
The home team Pirates with 47 members won the Team High Point Trophy for the first time in the meet's 5-year history, compiling 1,177 points. The Kingman Dolphins came in second with 804 points and the Sedona Red Peaks took third with 791 points.
Swim teams from the Flagstaff, Anthem, Phoenix and Tucson areas also attended.
Individual High Point rankings, including seven top three finishers,  from the Pirates were:
Bailey Johnson, 8, took 5th place in Girls 8 & Under.
Ben Spence, 7, placed 3rd in Boys 8 & Under.
Ellie Fenderson, 9, was 12th in Girls 9-10.
Harris Temple, 10, won 1st place in Boys 9-10.
Brittney Pike, 11, finished 4th in 11-12 Girls.
Jake Goswick, 12, managed 10th in 11-12 Boys.
Raphael Temple, 13, and Toko Miller, 14, won 1st and 2nd in 13-14 Girls.
Jaxton Peterson, 13, took 4th in 13-14 Boys.
Stephanie Riviere, 17, got 1st in 15 & Over Girls.
Grant Temple,16, won 1st in 15 & Over Boys, while Charles Miller, Adam Schilperoort, Cameron Blinston and Robert Folmer took the other four  spots as the Pirates swept the top five places in the 15 & Over Boys group.
Prescott Swim Team is a non-profit organization dedicated to the development of the youth of our community through the sport of swimming. It is a year-round, USA Swimming sanctioned, competitive swim program for youth ages 5-18 years old. PST trains at the Yavapai College Pool, located in Building 2 on the Prescott YC campus under the direction of Head Coach Mindy Hays and Asst Head Coach Sarah Riviere.  Visit the Pirates website at www.prescottswimteam.com for more information.