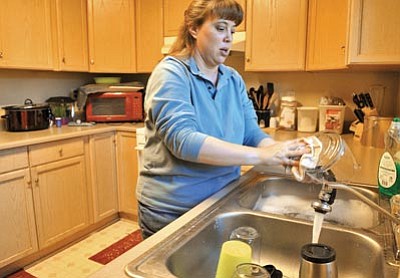 Originally Published: January 5, 2012 10 p.m.
PRESCOTT VALLEY - Virginia Midkiff said she walked away from a home here after a divorce because she could not afford to maintain it, and the house went into foreclosure.
Midkiff, 39, and her four minor children moved into a duplex unit in September 2009.
Now that a new year has arrived, Midkiff faces the possibility of moving again.
Midkiff, a receptionist at a medical office, said her property manager notified her months ago that the out-of-state property owner faced foreclosure. The then-property manager, Faith Pasciak of Realty Consultants of Prescott Inc., recently informed her that the duplex has a new owner - and has hired another property management company.
While Midkiff received a reprieve from eviction, she remains unsettled.
A representative from the new management company hung a handbill on her doorknob Dec. 1 with a "warning" notice advising her that she needed to sign a lease.
"I already had a lease and paid the rent," Midkiff said, adding the new company has not been communicative, unlike Pasciak. A representative from the company declined comment on grounds of tenant confidentiality.
She said she wants to stay in the three-bedroom, two-bathroom apartment because she cannot afford to pay more for rent.
"I have been collecting (moving) boxes for months because I don't know what is going on," Midkiff said.
Midkiff is among a number of tenants throughout the tri-city area, Arizona and country as a whole who have faced disruption in their housing situations because of foreclosures.
Arizona Tenant Advocates & Associates, a Tempe-based nonprofit, has fielded a number of calls from renters in foreclosure situations, said Ken Volk, president and counselor.
"It has not been as common as it used to be," said Volk, who added he thinks the calls have dropped because foreclosures have declined in numbers as well.
Volk, who is not an attorney, said state law provides some protections but described them as being "very vague."
The law requires landlords to disclose to tenants if they sign rental agreements after a foreclosure action is initiated, Volk said.
By the same token, the law does not make it clear that a tenant may break a lease if a landlord does not meet the disclosure requirement, Volk said.
Volk said federal law requires property owners to give tenants three months of notice if the property owners plan to move into the rental dwelling to make it their primary residence.
Landlords must honor existing leases under state law, Pasciak said.
Pasciak said her firm has faced 17 foreclosures involving renters over the past year - and three since November.
"We try to help them find other places" to live, she said. She added that she has been able to transfer deposits if a renter has to move from a foreclosed property.
"It is a real nightmare for property managers," Pasciak said.
And for renters as well. Midkiff advises renters to cultivate good relationships with property managers, something that she has been unable to do so yet with the new company.
CheckYourLandlord.com advises renters to check on the status of property before signing a lease to ensure no notices of default have been filed against the property. Renters can check on property in Yavapai County by logging onto www.co.yavapai.az.us/GISMapping.aspx and clicking parcel search.
For more information about tenant rights, log onto http://www.arizonatenants.com, or call (480) 557-8905.