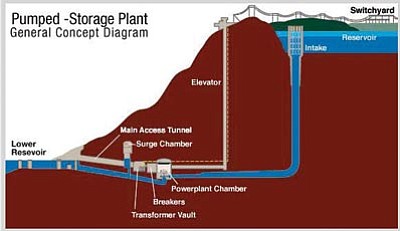 Originally Published: February 24, 2012 9:50 p.m.
A proposed hydroelectric site in the Big Chino Valley now has an informational website.
The Longview Energy Exchange Pumped Storage Hydroelectric Project website at longviewee.com features information about the project, the project team and a three-year feasibility study the group plans to undertake when it gets a preliminary permit from the Federal Energy Regulatory Commission (FERC). The project applied for the permit in January and announced its plans.
FERC is accepting public comments on the proposal through March 12. The FERC docket number for the project is P-14341. To file an electronic comment, go online to ferc.gov/docs-filing/ecomment.asp. People with questions for FERC can call 1-866-208-3676.
The Longview website also features a page where the public can contact the project team with questions or comments via email or phone at 928-315-1118.
The website says after the project team evaluates the feasibility of the project (which could take as long as three years), it usually takes five years to get permits and another three years for construction.
The facility site is located on the huge Chino Grande Ranch and state trust lands about 30 miles north of Prescott.
Proponents estimate the facility could produce as much as 2,000 megawatts of electricity, enough to power approximately 350,000-500,000 homes.
Alongside three reservoirs, the project would require the construction of a transmission line 27 to 38 miles long so it could connect to existing electrical lines.
It would be Arizona's first closed-loop hydroelectric power facility, using about 17,500 acre-feet of Big Chino groundwater to initially fill the reservoirs.
Local officials estimate the project would need another 1,100-1,260 acre-feet of groundwater each year to replace water lost to evaporation. Project proponents haven't released their estimates yet.
Scientists estimate the Big Chino Aquifer supplies at least 80 percent of the water for the Upper Verde River, home to endangered species, so previous large-scale proposals to use that water have generated high public interest.
The municipalities of Prescott, Prescott Valley and Chino Valley all want to use some of the Big Chino water to supplement their Little Chino Aquifer supplies, since they are depleting those supplies.
Prescott secured the right to pump about 8,000 acre-feet of Big Chino groundwater each year from a ranch next to the Chino Grande that it bought eight years ago. Prescott Valley is a partner in Prescott's proposed pipeline project.
Chino Valley has purchased several irrigation rights closer to the Upper Verde headwaters so the town can convert those rights to municipal use.
All of the communities have struggled to find financing for their pipeline projects, however.
None of them have produced any detailed mitigation plans about how they will protect the river.
Prescott originally conducted regular public mitigation planning meetings, but then stopped. Over the past few years, Prescott and PV have been conducting closed-door negotiations with the Salt River Project, a Phoenix-area water provider with senior water rights on the river.
More like this story