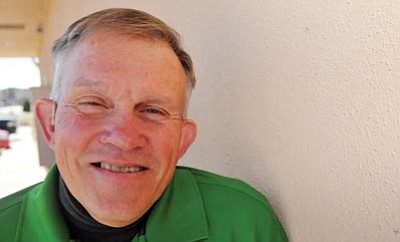 Originally Published: February 23, 2012 9:55 p.m.
Hearing impaired? Yes. Deaf to the needs of others who share his loss? Definitely not.
Prescott resident Jack Clevenger, 62, lost his hearing when he was only a month old, likely because he was ill and ran a temperature of 105 degrees, he said.
"Actually, I'm lucky to be alive," he said of an illness that struck him when he was a newborn. About the time he was 3 months old, his mother feared her son was deaf, and her worries intensified when she stood behind him and clapped her hands. "I didn't respond," Clevenger said, "and she knew something was wrong." His mother took him to the doctor immediately, and his deafness was confirmed.
"She was crushed," Clevenger said of his mother's reaction to the news. At the age of 3, he began wearing a hearing device, a small box-like apparatus that hung from a strap on his chest.
In those days, schools didn't offer special education, so Clevenger began his education at Gompers Rehabilitation Clinic in Phoenix. Eventually, he entered public school, but for some years, his parents thought he wasn't doing well academically, he said.
That would change when he entered seventh grade. "They came out with behind-the-ear hearing aids," Clevenger said, "and I began to hear better and understand what was going on in the classroom."
Up until that time, he said he didn't know that his impairment was holding him back, he said. "I wasn't aware of it," he said. "I was just trying to survive and understand my world as a kid. I took each day as it came."
Clevenger's positive outlook and the ongoing support of his parents saw him through his childhood, so much so that he doesn't recall feeling like an outsider as a youngster. He remembers his mother pushing him to read. "She had books for me to read, and we read the newspaper every morning," he said. "This helped me develop a vocabulary. To me that was essential."
He graduated from Cortez High School in Phoenix, where he got on the tennis team. "This gave me something so that I could fit in with my classmates," he said. "I could be involved in something."
Clevenger continued his education at Cochise College in Douglas, Ariz., where he also made the tennis team, graduated from Arizona State University with a sociology major and earned a master's degree in counseling from Northern Arizona University.
Still wearing the behind-the-ear hearing aids, Clevenger lost the remainder of his hearing in his left ear in 1995 and in his right ear in 1999.
That didn't keep him from forging ahead. He began his career working with developmentally disabled people at the Arizona Training Program before becoming a program adviser for Disability Resource Services at Mesa Community College. He advanced to manager in this job before retiring in 2006 after 25 years. He held similar positions at Yavapai College and Embry-Riddle Aeronautical University before he fully retired in 2010.
Clevenger devoted his career to helping others with disabilities, evidenced by his work at Mesa Community. There he set up accommodations for people with vision loss, made sure classes were accessible for people in wheelchairs and arranged for people with attention deficit disorders, for example, to have more time to take notes.
Now, "I want to advocate as well as become a community resource for people with hearing loss," he said.
Clevenger is a member of the Arizona Commission for the Deaf and Hard of Hearing and active in the Hearing Loss Association of Prescott, which meets from 10 a.m. to 11:30 this Saturday and every fourth Saturday at the Prescott Public Library.
The HLA meetings cover virtually every facet of dealing with hearing loss and the advanced technology that is available to help people coping with deafness.
"I feel like I can be of help and be a resource for what's going to help them with their hearing aids," Clevenger said. He also installs and trains people to use CaptionCall, a phone with a screen, much like a teleprompter, that displays written captions of what callers are saying.
Twelve years ago, he had a cochlear implant, a surgically implanted device that produces a sense of sound to a person who is profoundly deaf or is severely hard of hearing.
"There's hope, there's technology, there are support groups," he said. "It's so much different than in the 1950s when I was growing up. There are so many things to make life better. It's just amazing," he said.
The HLA meetings always include speakers relevant to the topic and always provide captioning, he said.
Those who may have questions about HLA or hearing loss may call Clevenger at 928-227-1809 or email him at HLAofPrescott@yahoo.com.
More like this story