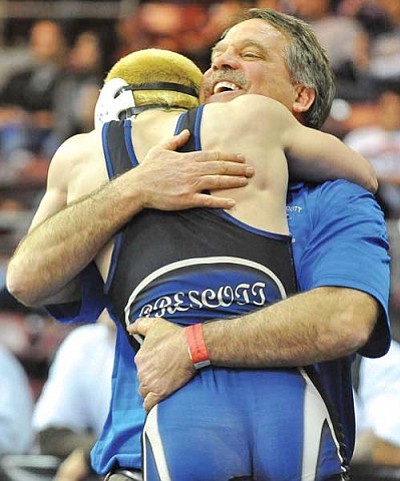 Originally Published: February 11, 2012 10:59 p.m.
PRESCOTT VALLEY - After suffering a semifinal loss in the winners' bracket of the 120-pound weight class Saturday at Tim's Toyota Center, Prescott High senior wrestler Mike Burkeen shrugged off the disappointment and walked away proudly as a third-place finisher.
The second-seeded Burkeen lost 8-2 to eventual 120-pound state champion Kevin Hunt of Peoria Sunrise Mountain in the semis before roaring back in the consolations to pin fourth-seeded Nick Martinez of Raymond Kellis and No. 8 seed Troy Vandall of Barry Goldwater for a medal.
Following the victory over Vandall, an ecstatic Burkeen embraced Badgers coach Eric Koehler and his assistant coaches on the mat.
"It's nice to go out my senior year with third place," said Burkeen, who out-dueled both Hunt and Vandall for the D-II, Section III 120-pound title the week prior. "This (Prescott High) program means everything to me, and it's really brought me far. Without wrestling, I don't even want to know what kind of man I'd be today."
Koehler praised Burkeen, who concluded the 2011-12 season with a 32-6 overall record.
"Mike is a phenomenal wrestler, and I'm going to miss that boy next year," Koehler said.
Also in the consolation bracket finals, PHS 195-pound second-seeded junior Tyler Wilson (31-5) claimed a fourth-place medal after being pinned by top-seeded Adam Pavlenko of Tempe Marcos de Niza in the third-place match.
Badgers 145-pound fifth-seeded senior Garrett Hagen also took fourth, following a narrow setback to 14th-seeded Isaac Saenz of Gila Ridge, 5-3.
Despite the loss to Saenz, Hagen (31-10) pulled off a remarkable feat in this tournament.
Pinned unexpectedly by 12th-seeded Adrian Ortiz of Dysart in the first round Friday, Hagen rallied in the consolations to win four straight matches - knocking out the sixth, ninth, 13th and 16th seeds before the Saenz showdown.
"It was tough - I had some really strong, strong kids that wrestled well," Hagen said of his comeback in the consolation rounds. "I guess I've got to be happy with how I did."
Added Koehler of Hagen's performance, "That shows a lot of class and a lot of pride. It's a tough route, but he did it with his head held high. I'm proud of the boy. He is top of his class."
About a half an hour before Hagen's match against Saenz, Prescott 132-pound No. 3 seed Phillip Eby (25-10), a junior, snagged fifth place.
Eby outlasted sixth-seeded Jose Cazares of Gila Ridge, 11-7, in a come-from-behind victory to medal.
Here's how the rest of Prescott and Bradshaw Mountain high schools' wrestlers fared in the final rounds Saturday:
• Prescott 106-pound No. 12 seed freshman Saxon Vaughan (26-14 overall record) was eliminated in the consolation bracket after losing to sixth-seeded James Wilson of Vista Grande, 8-2.
• Bradshaw Mountain 106-pound No. 16 seed freshman Ian Cobb (12-7) was eliminated in the consolation bracket after succumbing to seventh-seeded Kenny Vandall of Barry Goldwater, 6-3.
• Prescott 126-pound No. 10 seed freshman Talon Vaughan (24-14) was eliminated in the consolation bracket after falling to eighth-seeded Chase Meade of Marana.
• Prescott 138-pound No. 13 seed sophomore Tim LaMaster (17-14) was eliminated in the consolation bracket after losing to sixth-seeded Clint Allen of Ironwood Ridge,
2-0.
• Prescott 160-pound No. 11 seed junior Dominic Garduno (18-16) was eliminated in the consolation bracket after a 9-6 setback to fourth-seeded Chase Riddle of Marana.