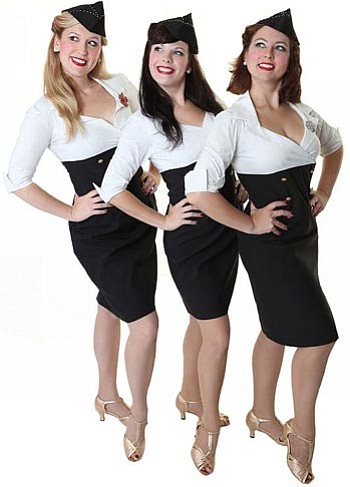 Originally Published: February 5, 2012 9:50 p.m.
All aboard! People who love tunes of the World War II era will want to hop on the Manhattan Dolls' "Chattanooga Choo Choo" for a sentimental journey across the Elks Opera House stage on Sunday, Feb. 12.
The curtain opens at 2 p.m. at the opera house, 117 E. Gurley St. Tickets are $22 to $25 and are available by calling the box office at 777-1370 or logging onto elksoperahouse.com.
The Dolls hail from New York City, hence their name, "Manhattan Dolls." But their founder, Heather Dispensa, is originally from Tucson, where she earned her bachelor's and master's degrees in vocal performance.
Dispensa has performed in operas and classical concerts and traveled as a backup with Barry Manilow in the "Ultimate Manilow Tour." But sojourning with the USO in 2008 set her on a new path.
"I really wanted to continue with the mission of entertaining active military and veterans with the music of the World War II era," she said. "I grew up listening to the Andrews Sisters. I always enjoyed this music."
Actually, there are six Manhattan Dolls, which means they can be "two places at once," with three on stage at each venue. "We all mix and match if one isn't available," Dispensa said.
The two besides Dispensa who will perform in Prescott are Annemarie Rosano and Sarah Drake. As the Manhattan Dolls, they wrap themselves in the period of USO girls, Dispensa as soprano 1, Rosano as soprano 2, and Drake as alto, accompanied by piano, drum, bass and three horns.
They stick to the traditional '30s and '40s hits such as "Chattanooga Choo Choo," "In the Mood" and "Sentimental Journey," the show's title. But the trio "will sneak in" "New York, New York," their own original arrangement of "God Bless the U.S.A" and a surprise at the end, Dispensa said.
"Our goal is to take a trip back to that time period with both the music and our costumes," she said. For the first act, the Manhattan Dolls will sport polka dot swing-style dresses, and for the second act, their attire will be military dress.
The Dolls travel the United States and Europe, performing for servicemen and women.
"I think as a civilian it's one of the ways I can show appreciation, a way of saying thank you" to people who service in the U.S. military," said Dispensa. "It's fantastic music that deserves to stay alive. It's up to people like us to keep it alive."
More like this story