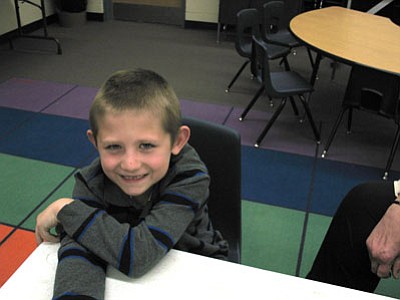 Originally Published: February 2, 2012 10 p.m.
Meet Justice. He is 6 years old and in the first grade. Justice lives with his mom and his brother. Right now Justice doesn't have any male role models in his life. His mom signed him up for Yavapai Big Brothers Big Sisters because Justice would like someone he can hang out with and enjoy doing "guy" stuff with.
Justice has many interests: He likes to play football and is very good at throwing the ball. He loves animals and watches Animal Planet, and enjoys just about every outdoor activity imaginable.
Justice is a big help around the house. He has regular chores including taking out the trash and making his own bed, and he keeps his toys picked up. Justice is enthusiastic and outgoing. He is very smart when he applies himself but sometimes has a short attention span. He likes school and his teacher says she enjoys having him in class. In fact, she said that Justice is the student in her class who has progressed the most during the first semester.
His mother thinks Justice would benefit from seeing a positive grown male role model who knows how to behave and be a good influence. Justice would like a Big Brother to hang out with at the park. He wants someone who will toss the football with him and go to the zoo, the movies and bowling.
You don't have to change your life to change the life of a young person like Justice. Just a few hours a couple of times a month is enough to make a difference. Research shows that kids matched with a "Big" are 52 percent less likely to get arrested compared to all other kids their age. Matched children are also less likely to skip a day of school and less likely to begin using illegal drugs and alcohol. Right now, there is a real need for Big Brothers, Big Sisters and families to be matched with kids living in Prescott Valley, Dewey and Chino Valley.
Want to do even more to help kids like Justice? Sign up to be part of Bowl for Kids' Sake 2012. It's not about bowling; it's about having fun and helping kids. For more information, call 778-5135 or visit www.azbigs.org.
More like this story