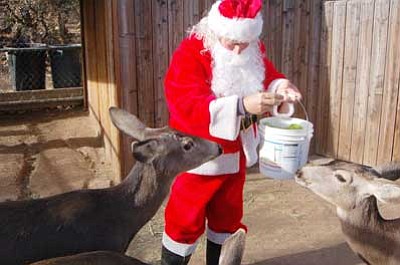 Originally Published: December 10, 2012 12:01 a.m.
Cassie, a tiger that weighs at least 350 pounds, gripped a big red box with its teeth Sunday afternoon at the Heritage Park Zoological Sanctuary as nearly 40 people watched.
Cassie, 7, ate meat from the box, hurled the box into a dry pool and then returned to the pieces of meat on the landing of the tiger's enclosure at the zoo.
Zoo officials billed the feeding of Cassie and other animals as an annual event, which has been going on for at least 15 years, as "Santa with the Animals."
However, Santa Claus largely avoided contact with animals with claws for his own safety during the two-hour event. Zoo officials apparently did not want the jolly, fat man in a red suit to be mistaken for red meat.
In fact, zoo officials only allowed Santa to enter the enclosures of rabbits, porcupines, wallabies and mule deer to bring them "presents," said Heather Patrice Brown, events and marketing coordinator. The presents consisted of boxes or tubes containing food.
Animal keepers brought the boxes to Cassie, as well as to a shy baby bear, tamarins and other animals in enclosures off limits to Santa. Tamarins are among a few species of primates that have claws instead of nails, Brown said.
Santa was in good humor during the event, and rode in a cart that education coordinator Leah Wacks drove around the zoo grounds.
"Santa Claus and 'claws' are not related. I'm Claus, not Claws," he said with a laugh.
On a more serious note, Santa said he liked to observe "the wonderful looks" on the faces and eyes of children and their parents.
Children were happy to see Santa and the animals as well.
"He is real nice, and I like seeing the animals eating. They look funny," said Samantha Spengler, a fifth-grader at Taylor Hicks Elementary School who arrived with her mother, Kristi, and her brother Ryan.
The Spengler family, of Prescott Valley, attended the event for the second year. By contrast, Kelsey Gardipee, also of Prescott Valley, belongs to the zoo but took her children, Zade, 4, and Zoe, 1, for the first time.
Responding to a question from his mother, Zade said the tiger is his favorite animal at the zoo.
"It's Cassie the tiger," he said. "They eat meat."
Meat, vegetables and fruit for the animals came through donations from Trader Joe's, Albertsons, Natural Grocers and Safeway, Brown said. The zoo, which is home to about 180 animals, opened in 1988.
Brown, who carried a walkie-talkie as she strolled the grounds and served as an informal tour guide, said Santa with the Animals fits in with the Christmas spirit.
"It is fun for the animals. It is fun for the visitors," she said.
Santa concluded his gift giving bringing a bucket full of cauliflower, broccoli and lettuce to feed the four mule deer. He then posed for photos with the children.
Santa's presence became a magnet for the hungry deer.
"He is the deer expert," Brown said, referring, of course, to reindeer.
More like this story