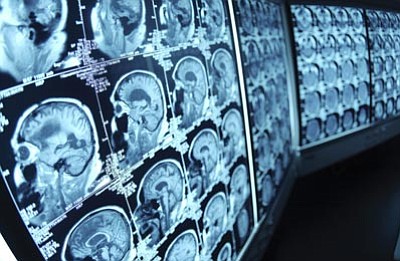 Originally Published: April 21, 2012 10:04 p.m.
Yavapai Regional Medical Center has crossed another threshold in the services it offers to patients in the quad-city area.
Just seven months ago, neurosurgeon Harvey G. Thomas, M.D., FRCFC, joined the hospital's staff and has performed surgeries that before now have meant patients had to go to Phoenix or Flagstaff, for example, for the procedures they needed.
Neurosurgeons "can travel anywhere in the body," Thomas said, and they often "find themselves in the head" of patients who present certain medical conditions, such as blood clots, tumors or hydrocephalus, which is fluid or water in the brain.
Enter Thomas and his skillful hands.
"A build-up of cerebrospinal fluid on the brain can cause forgetfulness, lack of concentration, problems walking, stroke-like symptoms and even incontinence," Thomas said, adding this surplus may occur in people suffering from dementia, brain tumors or other conditions.
In instances of hydrocephalus, neurosurgeons perform a ventriculoperitoneal (VP) shunting procedure to relieve pressure on the brain by re-routing the fluid. During a VP shunting surgery, Thomas creates a small opening in the patient's skull and then inserts reed-thin tubing and directs it to the patient's abdominal cavity. He also places a dime-sized pressure valve under the patient's right ear. The tubing and the valve together re-direct the fluid away from the brain to the abdomen where it can be absorbed into the body. The pressure valve is programmable and may be adjusted - opened for additional flow or closed tighter - even after surgery by using a computer with specially designed software.
"This procedure can relieve those symptoms for many people," Thomas said of the procedure.
The amount of cerebrospinal fluid around the brain is measured during CT scans of the patient's head approximately four weeks after surgery and again six weeks post-surgery.
Because this kind of option is now available for patients in the Prescott area, they "remain close to home with support from family and friends," Thomas said.
Just what causes water in the brain isn't often known, Thomas said. It can be the result of a head injury or meningitis as a child. When water builds up, it causes pressure on the brain and the patient gets sick, he explained.
Another cranial surgery that Thomas performed helped a patient who had a brain tumor, which couldn't be removed, he said. Yet, "one always wants a diagnosis," so he was able to make an incision in the skull and obtain pieces of the tumor for a biopsy.
"It was a bad tumor," Thomas said, but once the patient and her family knew what it was, her doctors could suggest treatment plans.
"It's important to know exactly what it is," he said of conditions that pose need for diagnostic exploration. "It may be an infection or a stroke. One you know the prognosis," the patient and family can plan a course of action.
Thomas has also done "a goodly number of spine operation" for conditions such as ruptured discs and arthritic spurs pressing on nerves, which causes sciatic or nerve pain.
Thomas is affiliated with YRMC PhysicianCare and came to Prescott from the Phoenix area, where he helped found Arizona Spine and Joint Hospital. He also served as that hospital's chairman of the board. Before that, he was chair of the Surgery Department at Chandler Regional Medical Center. He is board certified with the American Board of Neurological Surgeons and was named a "Top Doc" in 2010 by Phoenix Magazine.
The nursing staff awaiting Thomas' arrival at YRMC was prepared for participating in the surgery by training that was provided in advance. The hospital bought special equipment for the surgical suite, as well.
Diane Drexler, YRMC's chief nursing officer, said the staff went to a Scottsdale hospital where "a great collaborative experience" gave the staff confidence for its new challenge. She helped coordinate the training for the clinical skills the staff would need to perform the cranial work, she said.
She also credits Thomas for giving the YRMC team the conviction that "we can do this."
Drexler said Thomas "is non-intimidating and gets along so well with staff. He is part of the family and talks in language they can understand. He has provided the didactic part for the staff and the hands-on. It's his commitment to make sure they understand the work he's doing."