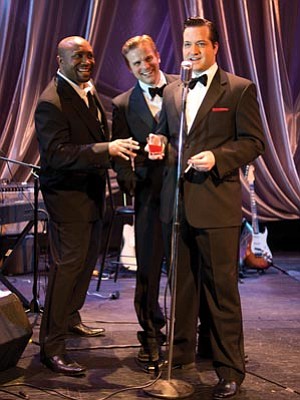 Originally Published: April 12, 2012 9:59 p.m.
A modern version of the legendary Rat Pack brings old memories to the Elks Opera House stage on Sunday in a salute to all-time favorites Frank Sinatra, Dean Martin and Sammy Davis Jr. that promises to be "full of swingin' standards and lots of laughs."
The show goes on at 7 p.m., with a "unique twist" brought to Prescott by national touring artist Robert Shaw and international touring artists Walter Belcher and Kiel Klaphake.
Lore offers several explanations about the origin of the Rat Pack. One such tale is that the gang came about when Lauren Bacall greeted her husband Humphrey Bogart and his friends upon their return from Las Vegas with "you look like a (expletive) rat pack."
A later story identified early Rat Packers as Frank Sinatra (pack master), Judy Garland (first vice president), Bacall (den mother), Sid Luft (cage master), Bogart (rat in charge of public relations), Swifty Lazar (recording secretary and treasurer), Nathaniel Benchley (historian), David Niven, Katharine Hepburn, Spencer Tracy, George Cukor, Cary Grant, Rex Harrison and Jimmy Van Heusen.
When the 1960s rolled around, the Rat Pack's members were Frank Sinatra, Dean Martin, Sammy Davis Jr., Joey Bishop and Peter Lawford. Legend also has it that news people named the famous performers the "Rat Pack," but they preferred to call themselves the Summit or the Clan.
Sunday's trio will celebrate Sinatra, Martin and Davis as individuals and their contributions to the world of music, Shaw said, adding, "We are not trying to impersonate the individuals."
Why a salute to the Rat Pack?
"Truthfully, I just love singing that music personally," said Shaw of Lonely Street Productions. "I love the music. I think this music is some of the best written and recorded. We will try to highlight songs of the greatest hits of these three performers."
The evening promises such hits as "Fly Me to the Moon," "Volare," and "Mr. Bojangles," among many others that entertained audiences for decades.
During the first act of the two-hour concert, the three singers will focus on Sinatra, Martin and Davis as individuals and do some tunes each was known for, Shaw said. In the second act, they will sport tuxes and do a "Las Vegas night club sort of show."
All of this will be accompanied by a seven-piece band with a "tremendous horn section," Shaw said of the first time he and his co-performers have ever been on stage together.
Shaw is from Tucson and is well known for his Lonely Street Band. Belcher lives in Phoenix and is a regular in concerts and theater throughout the Southwest. He is also the official singer for Swiss military bands. Klaphake owns the Arizona Broadway Theater in Peoria, Ariz., and has performed Raoul in "Phantom of the Opera."
Playing the Rat Pack "is a whole lot of fun, and we have really been enjoying it," Shaw said. It will be a "fun, fun evening."
"People still like to hear this music. They still have an appetite to hear this music, and it's great to be able to bring it to life again," Shaw said.
Tickets for the show are $22 for seniors and children, $25 for adults, $30 for opera boxes and are available by calling the opera house at 777-1370 from 10 a.m. to 2 p.m. today or going online to www.elksoperahouse.com until 5 p.m. Sunday. The box office will open at 6 p.m. on Sunday for last-minute, in-person purchases.