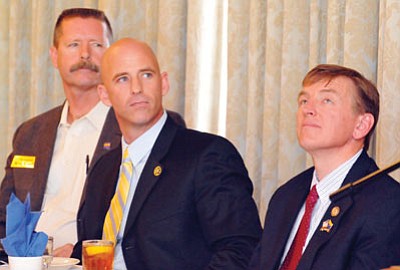 Originally Published: April 9, 2012 11:08 p.m.
PRESCOTT - Pinal County Sheriff Paul Babeu told the packed crowd at a Yavapai Republican Men's Forum luncheon Monday that he's had enough media attention.
But several members of the Phoenix metropolitan media clearly were not finished providing extra attention to Babeu, following him out of the Hotel St. Michael ballroom down Whiskey Row after the candidate forum until Babeu stopped to answer questions in front of the camera.
Babeu was speaking to the forum alongside the two other announced Republican candidates in the race for the newly drawn 4th Congressional District seat, U.S. Rep. Paul Gosar of Flagstaff and Arizona Sen. Ron Gould of Lake Havasu City.
It used to be rare for Valley of the Sun media to cover candidate forums in Prescott, but that changed after scandal hit Babeu in February. Babeu's former boyfriend Jose Orozco accused the sheriff of threatening to deport him if Orozco didn't keep their relationship secret. Babeu then admitted being gay but denied the other allegation. Government officials subsequently announced investigations into Babeu's actions related to the affair.
Babeu reminded reporters Monday he asked for one of the investigations himself, into the abuse of power allegation related to his alleged threats against Orozco. He denied destroying government emails, an allegation that also is the subject of one of the investigations.
Even during the luncheon, Babeu couldn't escape questions about those issues. A luncheon participant asked him why voters should trust his judgment after seeing his semi-nude photos posted on a gay dating website.
"Those photographs that were released were personal, private," Babeu said. "I define myself by what I have done in service to my community."
Babeu later told the media he didn't personally post the photos on the web that showed him wearing only briefs.
And he said Monday's banquet was the first time anyone outside of the media had asked him questions about the relationship.
He noted at the start of his luncheon speech that Maricopa Sheriff Joe Arpaio and Arizona Attorney General Tom Horne also are under investigation by law enforcement officials.
"You don't have to be a detective to be a little bit suspect of the timing of all this," Babeu said.
He then switched gears to criticize President Barack Obama for wanting to borrow money to stimulate the economy.
"There are those on the right that work for a living and earn it," versus the Occupy Wall Street and now Occupy Prescott crowds, "who believe they're entitled to things they haven't earned," Babeu said.
He then spent most of his 15-minute speech on the topic of illegal immigration, saying his department has been a leader in reducing the problem.
Gould touted his record against government spending increases.
"I'm the number-one conservative in the state Legislature," Gould said, later adding, "I've never voted for a tax increase, ever."
One person in the audience said jobs is the top issue in the country, and asked why the candidates hadn't yet discussed how they planned to create jobs.
"As a conservative, I don't believe government creates jobs," Gould responded. Instead, government should "create an atmosphere conducive to business" by lowering the corporate income tax and reducing regulations relating to safety and the environment.
Another attendee asked Gould why voters should choose him over Congressman Gosar, who currently represents this region but would have lived outside the new CD4 boundaries until he moved to Prescott recently.
Gould said he would have voted against raising the federal debt ceiling and continuing budget resolution that Gosar supported.
Gosar strongly defended his freshman record, saying the federal government would have shut down without the debt ceiling increase, like it did in 1995-96.
"Most people believe President Clinton got his second term for that," Gosar added.
This country needs coal, uranium, "and a president that's got the backbone to take on Iran," Gosar said.
The three candidates met again Monday evening at the Highway 69 Republicans gathering, but Babeu's personal life was not a topic there, and the valley reporters apparently decided to head back down the hill earlier in the day.
Facing an ultra-conservative audience at the Puerto Vallarta Restaurant in Dewey, none of the candidates directly disputed the comment of a man in the audience who said President Obama's birth certificate is a forgery.
"I tried to do something about that," Gould said, pointing to his Senate bill that would have required candidates to prove they're eligible to run for office. Gov. Brewer vetoed it.
Gosar and Babeu said it's better to get rid of Obama in the November election at this point.
More like this story