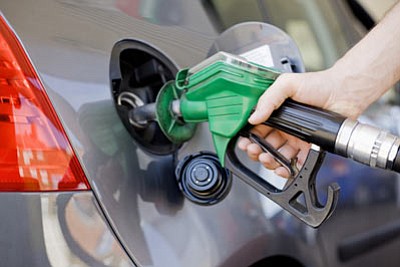 Originally Published: September 26, 2011 10 p.m.
Gas prices are falling at the pumps. That is indeed great news, but don't get your hopes up much. In an industry that treats consumers like a petroleum piñata, what comes down, must go up.
We'll get to the long-term forecast in a minute. First, take financial solace in the fact that experts tell us that U.S. drivers should expect a reduction in gas prices; in some cases, a drastic reduction.
Gas has averaged $3.56 per gallon in 2011, the highest yearly average ever, according to the AP. And although Americans have cut back on their driving, the Oil Price Information Service tells us that we will likely spend a record high $490 billion on gas before the year is out. In short, we're paying more than we ever have, demand is down, and oil industry profits are at record highs.
Confused? Just wait.
The state of Texas has its own gas kerfuffle. The state is considering granting some of the nation's largest refineries a tax refund of more than $135 million; millions and millions of dollars that the state's cash-strapped schools and other local governments have been counting on to help pay teachers and provide public services. Texas has already slashed $4 billion from public schools funding, and nearly half of the new refund would be taken from schools.
The reason: refineries have qualified for tax incentives structured if they were to minimize pollution by removing sulfur dioxide per EPA standards. (Sulfur dioxide is linked with a number of adverse effects on our respiratory systems.) So by providing financial incentives (the lifeblood of big oil) to maintain the health of our air (our own lifeblood), we are protecting our health at the expense of badly needed tax revenue. We suppose it would be best of all if big oil would take it upon itself to remove sulfur dioxide from diesel and gasoline for the sole incentive of protecting our health and not their bottom line, but that's an editorial for a different day.
For the first time in months, gas prices have already fallen below $3 per gallon in places, including parts of Michigan, Missouri and Texas. And the relief is likely to spread thanks to a sharp decline in crude-oil prices, the AP reports. Last week's plunge in oil prices could push the average to $3.25 per gallon by November, analysts say.
So save a few bucks this winter. But if you feel used and abused by the gas companies, you've got good reason.