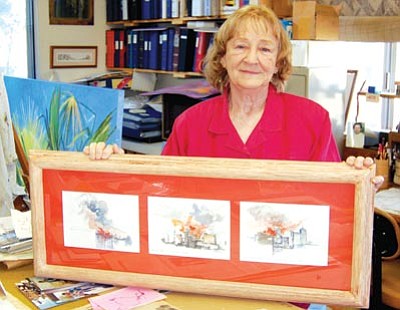 Originally Published: September 10, 2011 10:01 p.m.
The images still haunt Bonnie Casey.
As the nation commemorates the 10th anniversary of 9/11, Casey, like many others, still breaks down when she talks about that tragic day.
"Ten years and I still react like this," she said as she wiped away tears. "It all comes back to me - that's obvious."
Casey, a Chino Valley artist, still vividly remembers watching the horrific events of Sept. 11, 2001, unfold on television while visiting France.
"I first thought it was some kind of a movie," she said. "Then I saw the people jumping out of the buildings."
Staying in a small hotel in the Mediterranean seaside community of Cassis, Casey walked downstairs to talk to her roommate and the other women who were there with her at an artists' retreat.
"We all watched this together," she said. "We didn't know what we were seeing."
Casey, who was teaching the class, told the artists to express what they saw on television through their own art.
"It was something that we couldn't explain, and they kept playing it over and over again," she said.
Casey put her own emotions and feelings into a series of watercolor images in her sketchbook that took only about 20 minutes to create as she rushed to get her memories onto paper.
"I was so nervous that I really didn't take much time at all," she said. "All the paintings were very spontaneous, very quick."
Casey framed her work on the first anniversary of 9/11, and the pieces sat on display in a Prescott gallery for a couple of weeks.
The artwork is just as dramatic as the photos and video that continue to flash across television screens years later.
Casey's images show the flames and smoke that billowed from the towers before their collapse.
"It was a total disaster and incomprehensible," she said.
In the days since the tragedy, Casey said she sees herself as a historian of sorts, focusing on images that are here today and gone tomorrow for various reasons.
"Life is very short and you never know what's going to happen," she said. "I do feel that's a very important thing, to record history."
Casey said Sept. 11 continues to have a lasting emotional effect on her.
"It still brings tears to my eyes," she said. "I kept thinking I was over it and that I could handle it, but it was a disaster for America."
Since putting her 9/11 artwork on display nine years ago, Casey has trouble looking at the pieces, even today.
"It brings everything back - all those memories are like yesterday."
Through the emotional rubble, Casey believes that people must rise above the attacks and unite.
"This is a wakeup call," she said. "We've got to come together."
More like this story