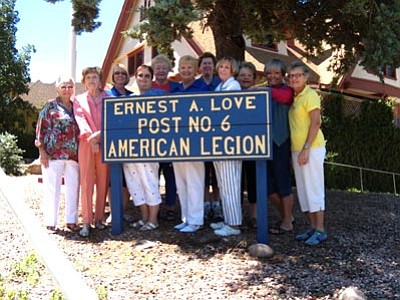 Originally Published: September 7, 2011 9:55 p.m.
Pictured are the 2011-2012 newly elected officers for Ernest A. Love Unit 6 to the American Legion. Pictured left to right are: Elberta Fritz, 2nd VP, Laurie Miller, Chaplain, Cheryl Richardson, Secretary, Irene Mullins, Sgt. at Arms, Diane Kelly, E-Committee, Corky Hintz, President, Pam Forck, Historian, Mary McCord, VP, Elfie Shake, Treasurer, Sherry Bucanan, E-Committee and Jo Schreiber E-Committee. Unavailable for the photo was Sue Chambers, E-Committee.
The Legion Auxiliary is dedicated to doing fundraiser to help all of our veterans and their families. If you would like to join the auxiliary and qualify, call the Legion Club at 778-6628.
More like this story