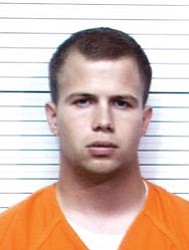 Originally Published: October 31, 2011 9:42 p.m.
A one-time volunteer track coach at Chino Valley High School admitted to sexual conduct with a minor in court Monday and will likely get three years' probation.
Elisha Humes, 21, of Chino Valley, pleaded guilty to aggravated assault and sexual conduct with a minor.
Humes was arrested in the early hours of March 23, when a Prescott police officer patrolling Heritage Park spotted him in a car with a 15-year-old girl. Police allege Humes was having sex with the Chino Valley High School student in the car.
"The sexual activity between Humes and the girl appears to have been going on for a couple of weeks," Prescott Police spokesman Lt. Tim Fletcher said. "Detectives learned they had apparently sent text messages back and forth to each other."
The plea deal Humes accepted specifies probation for the aggravated assault charge with prison time for the child sex charge only if he violates the terms of probation.
Humes, who is out on bond, will be sentenced Nov. 28.