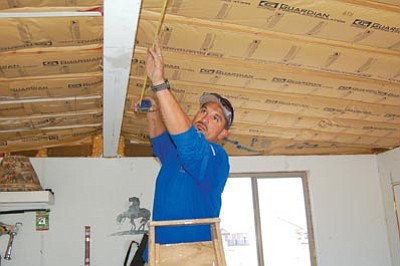 Originally Published: October 20, 2011 9:55 p.m.
The foreclosure mess appears to be easing in Yavapai County.
Recent data from two national real estate aggregators and figures from the Prescott Multiple Listing Service shows foreclosure activity is trending downward.
CoreLogic reported on Tuesday that foreclosures among outstanding mortgage loans were 2.84 percent in July. That's a modest decrease of 0.02 percent from July 2010. On top of that, CoreLogic also reported that the mortgage delinquency rate fell more than 1 percent over the same time frame.
CoreLogic's data shows that 6.69 percent of mortgage loans were 90 days or more delinquent compared to 7.92 percent for the same month in 2010.
Daren Blomquist, spokesman for RealtyTrac, believes the worst is behind the community.
"I think we are seeing the beginning of the downward trend over the last few months," he said.
Since March, foreclosure activity is down in the county on a year-over-year basis, according to Blomquist.
"I do think that's enough months to constitute a trend downward," he said. "I think we're past the peak of foreclosure activity in the Prescott area. It doesn't mean it's totally out of the woods."
Blomquist said 359 county properties got foreclosure notices in July, which is down 26 percent from the previous month, and it's down 19 percent from July 2010.
But the Prescott metro area had the 19th highest metro foreclosure rate in the nation, and Blomquist said the foreclosure glut would continue to permeate through the community for years.
Blomquist attributes the dip to the fact that the peak of the foreclosure mess already hit. He also said part of the dip is a bit of an exaggeration that comes from lenders having problems with improperly foreclosing on properties, which is causing them to slow down the process.
"There's a lot of foreclosure problems that Prescott's going to face over the next couple of years as it slowly absorbs this inventory of distressed properties," he said.
Local data supports that.
Realtor Pete Weaver, a Prescott Area Association of Realtors board member, said the year-to-date numbers show sales are up and the percent of distressed property sales are down over the same months in 2010.
From January through October 2010, the numbers show Realtors sold 1,968 homes in Prescott, Prescott Valley, Chino Valley and Dewey/Humboldt. Realtors sold 2,146 homes over the same span this year. That's a 9 percent increase.
The number of bank-owned properties fell slightly from 835 in 2010 to 821 this year. Short- sale properties were about the same, with 191 in 2010 and 195 in 2011.
Weaver's stats also show that 52 percent of sales in 2010 were distressed sales and in 2011, 47 percent of them were
distressed sales.
"Overall we're seeing a smaller percent of our total sales being distressed sales," he said. "We're seeing more units being sold; that's also a really good trend."
It's a trend that everyone isn't buying yet.
Mark Stapp, director of the real estate development program at Arizona State University, isn't sure the dip in foreclosures will continue.
"I wouldn't hang my hat on it as being an indication that this is all of a sudden going to get better," he said. "I think what you're going to see is a continuation of some of the same for a while. We've got several factors that have to really fall into place that have not."
Stapp is pointing to the weak job market and available credit, which, he said, is "fairly decimated" from economic problems people are having and a lack of confidence.
And Stapp said it could be years before things really improve.
"I don't think we're going to see an overall vast market improvement probably until 2015," he said. "We've decimated the middle-income market and that's really where most of the buying power resides."
The mess creates opportunities for buyers who couldn't afford a home just a few years ago.
Ricky Loftin and his family are one of those families.
The Loftin clan was renting a place in Chino Valley at about $1,000 a month for a couple of years.
Now, they're enjoying life in a 1,700-square-foot home on more than five acres in Paulden that Ricky bought for $75,000 this past summer.
Loftin has big plans
for the lot that he picked up as a short- sale property after the bank took his offer in July and his $515 monthly mortgage is enabling him to fulfill his dreams.
"This is huge. I mean this is everything in the world," he said.