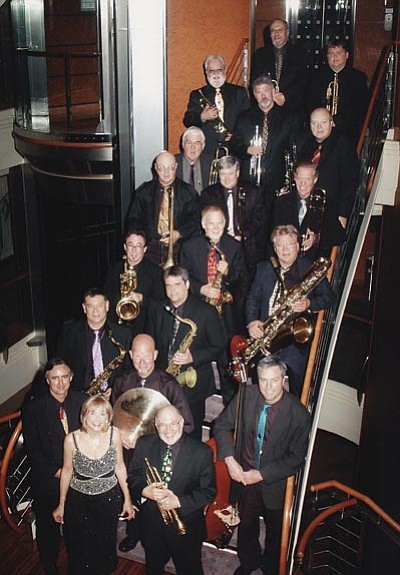 Originally Published: October 18, 2011 9:50 p.m.
The musical theme of one of America's most revered talents will take center stage Sunday when the Stan Kenton Alumni Band revitalizes the jazz virtuoso's melodies in a concert at the Elks Opera House.
This year, the band, under the direction of Mike Vax, is celebrating "100 Years of Kenton," marking the anniversary of Kenton's birth. The concert, which promises "a swinging afternoon of the best jazz ever to shake the balcony," begins at 3 p.m. Tickets range from $15 to $26 and are available by calling 777-1370 or visiting www.elksoperahouse.com. Proceeds from the event will benefit the Elks Opera House Foundation.
Vax has been a Kenton devotee since he began listening to his orchestra in 1956 and "became hooked on his music immediately." He first saw a live performance of the band's "Road Show" in 1960, with June Christy and the Four Freshmen, and then attended a summer jazz band camp, riding a train from Oakland, Calif., to Indiana University to get there. Vax was invited to play in the camp's faculty band under Kenton and at the end of the camp, he went up to him and said, "Mr. Kenton, I'm going to play first trumpet in your band someday." Kenton replied, "If you want to bad enough, you probably will."
That answer changed Vax's life, he said. He auditioned 10 years later after five years of college and a stint in the Navy, realized his dream and spent 2-1/2 years as Kenton's first trumpet, high note soloist and road manager.
"Stan was one of the most dynamic people I have ever known," Vax said. "He would enter a room and heads would turn. His presence on stage was almost overwhelming to an audience. He was one of the nicest, fairest and most humble of all the big name big band leaders."
Scott Whitfield of Los Angeles, a member of the Stan Kenton Alumni Band, shares Vax's sentiments.
"It's an honor to play this music and contribute to the sound in my own way," he said. He also appreciates alumni band's camaraderie and friendship, he said. "We are all there for the same music."
Whitfield, vocalist and arranger who plays trombone, describes Kenton's music as "different from many other band leaders." He was "always looking forward in terms of sounds he wanted his bands to make. He wanted to forecast the next wave in jazz and be on top of it. He wasn't strictly playing 'swing,'" Whitfield said. "He was bringing more of a Latin influence into big band sound."
Vocalist Ginger Berglund, Whitfield's wife, tours with the alumni band and said "some surprises" will be in store for Sunday's audience, including "repertoire from Kenton's past to new things."
Drummer Gary Hobbs of Vancouver, Wash., is a veteran of the alumni band and played with Kenton before he died.
His "personal joy" is "to continue that legacy of music," he said. "It allows us to play a very high level of some of the greatest music written."
Kim Richmond of Hollywood, Calif., on saxophone and woodwinds, has been in the alumni band for 10 years and played for Kenton in 1967.
"I always loved Stan Kenton music," he said. "That style was part of my growing up. This band celebrates that music," he said, adding that Kenton never wanted a "ghost band." "We play standard favorites and also new music in the style he would have written."
Richmond has written his interpretation of Kenton's theme song, "Artistry in Rhythm," using "all of the elements that Kenton set forth," which the band will play in the Sunday concert.
When the Stan Kenton Alumni Band leaves the Elks Opera House stage Sunday, some of its members will head for a jam session at Monk's Diner, 123 N. Cortez St.