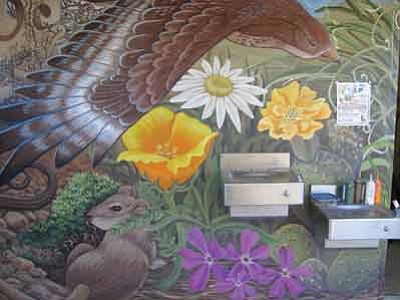 Originally Published: May 30, 2011 9:55 p.m.
Prescott Downtown Mural Project and Mural Mice Prescott are celebrating the anniversary of Prescott's newest eco-murals, "Go On Green" at Miller Valley School and the "Music of Nature" at Acker Park.
Gather with Mural Mice Prescott at 4 p.m. Sunday, June 5, at Acker Park, 421 South Virginia St., as they celebrate the art, honor the park and those who participated in these projects. Activities will include a potluck picnic, guided plant and ethnobotany nature walks, guest musicians, mural slideshow, guided mural tour and public art discussions.
Learn what's next for Mural Mice Prescott, enjoy the land, and bring a dish to share with friends. The event is free to all. Ears and tails are optional. The Prescott Downtown Mural Project is a public art initiative drawing community together through the mural arts. For more information, contact project directors at muralswork@gmail.com.
More like this story