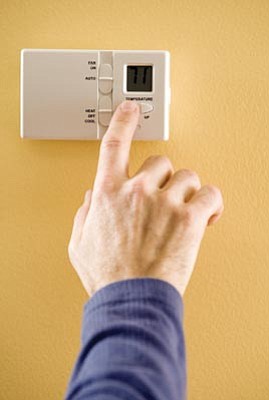 Originally Published: May 19, 2011 10 p.m.
Colleen Vicente doesn't like the idea of a utility company controlling her home's thermostat.
The Prescott Valley resident said that control over her thermostat is something she doesn't want to give up.
"I want to be able to set my own comfort level," she said.
Vicente doesn't agree with a portion of a new Arizona Public Service program that members of the Arizona Corporation Commission gave their approval to in February.
APS's Home Energy Information pilot program is one of the ways the utility is looking to conserve energy, cut demand during peak times and educate customers.
Other parts of the program include providing customers with devices that show them, in real time, their home electric use, or transmitting that data via smartphones.
Utility spokesman Dan Wool said the utility is looking for a total of 800 volunteers in the Phoenix and Yuma areas to participate in the programs. The program is not being tested in the Prescott area at this time.
About 600,000 APS customers have smart meters and it's from that pool in the Phoenix area that the utility is seeking volunteers for the thermostat control program, Wool said.
The utility will call customers a day early to let them know that they plan to send a signal to their thermostat to either raise the temperature a couple of degrees or cycle the air conditioner, APS and the customer would work together to set thermostat temperatures in advance, and it would last during peak times, which are as long as five hours a day, during the summer months.
Wool said that for air conditioning, the utility would cycle the compressor off for 15 or 30 minutes, and this could hit those customers between six and 18 days.
It saves customers money on their bill and it helps the utility from having to suddenly buy electricity on the open market when it's most expensive.
"At peak demand, obviously electricity is scarce throughout Arizona and elsewhere in the Southwest, so we end up paying higher rates on the open market for that electricity," he said. "We're really focused on energy efficiency and helping our customers save energy and money because, in the end, everyone wins."
Wool said they don't have any plan right now to make the thermostat control component permanent.
"Right now it's merely a test. We're going to work with the customers, see what comes back to us, what they like, what they might not like, and make some determinations based on what we see," he said.
ACC Commissioner Paul Newman said the commission's unanimous vote for the APS program is about improving the state's energy use.
"This is not the government necessarily; this is Arizona trying to establish a policy of conservation which puts us in a much better position to make use of renewable energy in the future," he said. "This is not any Big Brother solution at all."
Newman dismissed worries about privacy concerns, and he said the goal is to help consumers and the state get more energy-efficient and reduce energy costs.
"There is no privacy violation because people will be electing to do this because they'll be electing to do the right thing, which is to try to conserve enough energy," he said.
Vicente said she would like to see utilities offer incentives to cut use during peak hours versus customers losing control of the option.
Lori Mulvey and Jennifer Jackson don't like the idea of any utility controlling their use.
Jackson said it's a tough situation because she doesn't want to see things get so bad that rolling blackouts hit, but she recognizes that some people aren't willing to make sacrifices, either.
Mulvey said she keeps her thermostat at 80 degrees during the summer and thinks it will become permanent.
"You will have no choice," she said.