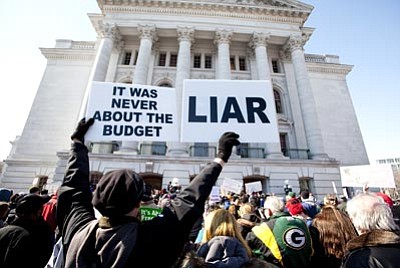 Originally Published: March 10, 2011 9:50 p.m.
EDITOR:
There are two quotes that come to mind about the slash-and-burn policies of the corporate elite: "It's like Cairo has moved to Madison" and "As goes Wisconsin, so goes the country."
First, the union-busting in Wisconsin has nothing to do with balancing the budget, or "saving the economy." It is about taking away the rights of workers to stand together and negotiate. The unions have already accepted the financial realities such as the freezing of their pay and contributing more to their benefits. But no, that is not enough. They must also give up their freedom of speech and autonomy.
This country has become an oligarchy. That is a society in which corporate interests and billionaires amass the greatest amount of wealth and power, thereby quashing the middle class and poor. The second-largest contributors to Gov. Walker of Wisconsin's campaign were the Koch Brothers, the oil and gas multi-billionaires. As goes Wisconsin, so goes the country - into the pockets of the richest and most powerful among us.
In this election, America didn't vote to lower unemployment. Obviously, the Republicans have no interest in that. We voted to put corporate interests into power - the interests that will strip away the last vestiges of our cherished rights.
The Republicans have already voted to overturn needed health care reform, strip workers of their bargaining power, eliminate Medicaid and Medicare funding, environmental protections, Planned Parenthood and the oversight of banks and corporations. Social Security will be next on the chopping block.
The healthiest democracies in the world are those with the largest middle class and least income inequality - countries where people don't lose their houses, jobs, and become bankrupt because they dare to get sick.
We have elected a majority that supports an oligarchy. We are blamed for our job losses and are demeaned for being poor or middle-class.
We are now ALL Wisconsin in this dying Democracy.
Linda Lutes
Prescott
More like this story