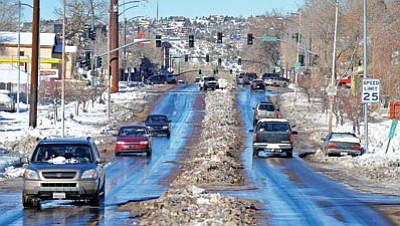 Originally Published: January 4, 2011 10:06 p.m.
PRESCOTT - A combination of heavy snow, freezing temperatures and a breakdown in communications contributed to a snowplowing response over New Year's weekend that city officials acknowledged was less than stellar.
"We did drop the ball in some areas," Prescott Mayor Marlin Kuykendall said during a Tuesday City Council discussion about the city's snow/ice policy. "We want to do better."
Kuykendall was just one of several city officials who expressed regret for the response to the holiday storm, which left many local residents blocked in their homes for several days.
The council heard from a number of residents who said they were left to their own devices when dealing with a foot or more of snow.
For instance, residents from Cathedral Pines, a high-altitude subdivision off White Spar Road in south Prescott, told of as much as a foot and a half of snow blocking their streets.
"I had to pay someone (to clear the street), or I would still be there," Jan Anderson said of her Cathedral Pines home.
Brad Sundquist, president of the Cathedral Pines Homeowners Association, agreed that streets in his subdivision are often overlooked during storms.
"We were distressed with the fact that our calls were not answered," Sundquist said. "Communications-wise, you did a horrible job."
Indeed, Field Operations Director Chad McDowell said the communications breakdown was central to the problem. He attributed the breakdown to the holiday and the fact some city workers were unable to make it to work because of the snow.
"I truly apologize," McDowell said. "We had two main flaws - communication, and that we didn't get into the residential streets as soon as we should have."
Instead, he said, city workers focused more on keeping the main arterial and collector streets open. While that kept the city from getting gridlocked, McDowell acknowledged that residential streets suffered because of it.
Even so, McDowell and council members stressed that city employees were working throughout the long weekend to try to get a handle on the situation.
"I assure you, citizens of Prescott, the employees were not sleeping," said Councilman Steve Blair.
McDowell noted that the 30 people in the streets department have been working alternating 12-hour shifts for the past seven days.
Also contributing to the problem were unusually cold temperatures that kept the snow and ice in place for days.
"This weekend was unusual for Prescott," Kuykendall said, noting the cold temperatures made for a difficult situation - even compared to the huge 1967 snowstorm that longtime residents remember.
"Let me assure you that we didn't do a better job in 1967," said Kuykendall, who has lived in Prescott since the early 1960s. But, he said, "We didn't have this severe drop in temperature in 1967 that we did this week."
Storm data that Police Chief Mike Kabbel presented showed a low temperature of minus 1 on Dec. 31 and minus 4 on Jan. 1. Highs on those days did not get above freezing - at 22 and 26 degrees, respectively.
As a part of the presentation, city staffers suggested a number of steps the city could take to do better in the future. But they stressed that most of the steps would cost considerably more money.
Topping the list was a possible change in the material the city uses on its streets.
Currently, McDowell said the city uses a mixture of sand, cinders and salt. He said at about 25 percent salt, the mixture provides "a little bit of melting, and it gives traction."
During the New Year's storm, McDowell said the city used about $50,000 worth of the material on its streets.
Switching to a salt product such as Ice Slicer might be more effective at melting the snow and ice, but McDowell said it would dramatically increase the costs. Just for the recent storm, he estimated the city would have spent $150,000 to $200,000 on the product, and for the entire year, the material cost could top $500,000.
Other ideas that came up include:
• Implementing parking restrictions on city streets, requiring owners to remove their vehicles during certain times to allow for more effective snowplowing.
• Equipping the city's garbage trucks and auxiliary four-wheel-drive vehicles with plows - a move that McDowell said would cost between $50,000 to $75,000.
City Manager Steve Norwood suggested the City Council consider the expenses during its upcoming mid-year budget discussions.
Meanwhile, city officials also put some responsibility on local residents. Early in the storm, the city urged residents to stay at home if at all possible.
"I saw some people doing some pretty dumb things," Lamerson said, referring to ill-equipped drivers. "Sometimes you've got to take some responsibility for your own actions."
Councilwoman Lora Lopas expressed similar views. "Sometimes, it just boils down to common sense," she said.
In the period from Dec. 29 to Jan. 2, Prescott Police responded to 42 car accidents and 100 motorist assists. That compares with 21 accidents and seven motorist assists during the same time frame over Christmas weekend.
Showing a map of where the incidents occurred, Kabbel said, "It wasn't just in the problematic areas; it was all over the city."