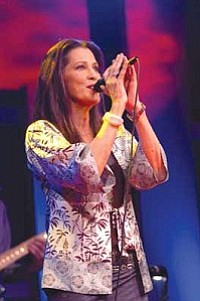 Originally Published: February 17, 2011 5:34 p.m.
PRESCOTT - Coming of age during the heyday of 1960s and '70s rock and roll, rising to the status of superstar and spanning generations of music fans, Rita Coolidge just can't get enough of singing songs.
"I was born with a gift, and by the grace of God, I still get to share it," Coolidge said from her home outside San Diego.
At 7:30 p.m. Friday, she shares her voice and the Rita Coolidge Band with fans at the Yavapai College Performance Hall. She has a special treat for the audience - she invited the Prescott High School Show Choir to sing with her for two songs.
"I love working with the choirs," said Coolidge, whose first public singing was with church choirs. "It's like hearing the voices of angels."
Around Christmas for the past 15 years, Coolidge has performed a Christmas concert with different choirs, but a scheduling conflict caused her instead to break tradition and perform with the PHS students tonight.
Performing "Circle of Light" and "Amazing Grace" with children may seem a far cry from her well-documented and famous career as a female pioneer in the rock and roll and country music arenas along with the likes of Bonnie Raitt and Linda Ronstadt. However, underneath her beautiful Scottish-Cherokee surface lives a woman whose interests and passions encompass a complex and versatile music repertoire way beyond her public persona.
It might surprise some of her fans to know that one of Coolidge's all-time inspirations and idols is jazz artist Peggy Lee. Coolidge made a hit out of Peggy Lee's song, "Fever," before Lee made her own hit recording of it.
"I just love everything about her," Coolidge said of her long-time friend. In 2006, Coolidge released a jazz album, "And So Is Love."
But before she became an international star singing rock, pop, jazz, and rhythm and blues, she sang gospel.
"I grew up in the church, my father was a Baptist minister, and I always sang in choirs and glee clubs," Coolidge said. Her father, Dick, a Cherokee, and her mother, Charlotte, a Cherokee-Scot, raised Coolidge and her two sisters in the hills of Tennessee.
"I started singing before I was talking," Coolidge said. "I knew music before I knew words. It's always been who I am."
Her family moved to Florida when she was 15, and she supported herself singing while earning an art degree from Florida State University. After graduating, she moved to Memphis and worked at Pepper Records, where a friend said she should move to California and look up his friends - Delaney and Bonnie Bramlett of the Delaney and Bonnie band.
After moving to Los Angeles in 1969, things moved fast for Coolidge. She met and performed with Joe Cocker, Leon Russell, George Harrison and her future husband, Kris Kristofferson, among many others. When Coolidge and Kristofferson married in 1973, hearts broke throughout the country.
Before separating in 1979 and later divorcing, the couple won two Grammys: 1973 and 1975 for Best Country Vocal Performance By A Duo Or Group. Some music critics dubbed her the "Queen of Country Music," and Leon Russell wrote a song about Coolidge, "The Delta Lady."
Although Coolidge never publicly flaunted or capitalized on her Cherokee heritage, she privately immersed herself in learning about her culture. After recording her song, "Cherokee," in her Native language for Robbie Robertson's "Music for the Native Americans" album in the mid-1990s, Coolidge formed Walela, a trio with her sister Priscilla, and Priscilla's daughter Laura.
"It's a family of singers and artists and several visual artists," Coolidge said. Walela (pronounced wa-lay-la) records song in Native languages. "When we're singing, the songs just take wings of their own."
When she is not touring, which she does as much as she can while entertaining her band with stories about the famous people she has known, Coolidge likes to garden, paint, read with her book club, cook, talk to her parents in North Carolina and stroll her 27 acre avocado grove with her dog.
"The most important thing about me is that underneath my skin, I'm just like you," she said. "The audience draws me in as much as I draw them in. It's not about me, it's about the songs stirring the emotions."
To read more about Rita Coolidge or listen to samples of her music, visit ritacoolidge.com. To read more about Walela, visit walela.com.
Tickets cost from $28-$58, and are sold online at tickets.com, or at the box office.