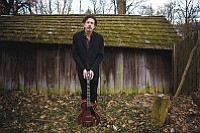 Originally Published: February 3, 2011 9:31 p.m.
PRESCOTT - In May 2003, Woodstock legend Richie Havens performed at Arcosanti. His lead guitarist was Walter Parks, and Parks is coming back to perform again at Arcosanti.
"I love it there," Parks said from Savannah, Ga., where he lives with his wife, Margo. "It's really a refueling spot for me. A place to get recharged."
Parks is on a cross-country tour with another music legend - Judy Collins - and together they are promoting his new album, "Walter Parks," which Collins produced on her Wildflower Record label.
"My new album has an open atmosphere feel," he said. "I'm inspired by the Western landscape, the open vistas. It's music you can close your eyes and put your head back to and see the landscape."
Parks did not always compose albums about the West, although he feels a kinship with it. In 1989, he moved from his Florida home to New York City and in 1991 he formed an acoustic duo with Stephanie Winters, The Nudes. Parks and Winters toured the West throughout the 1990s and wrote a song called "Arizona" for the duo's album, "Velvet Sofa."
In 1999, feeling stagnant and a little unsure of his direction in life, Parks traveled to Plum Village, legendary Tich Nat Han's Buddhist monastery in France. He went there, he said, to "explore who I was without a guitar and see what was left of me without a guitar."
He returned to New York a year later with a new appreciation of himself and his music. Already well known in the music world, he picked up his guitar and hit the touring trail.
"Richie and I shared the same agent," Parks said. "And I had opened some shows for him. He was looking for a new guitar player, and someone referred me for an audition.
"He recognized me when I came to audition because he had seen me on the road. So he already had a comfortable feeling with me, and he hired me. It took me awhile to get up to speed on his style."
Parks and Havens found their "zone" and blended together as one person when playing music.
"People often say we weave together so intricately we sound like one guitar," Parks wrote in his biography.
After touring, jamming and dazzling audiences for 10 years, Parks and Havens split up this past September.
Although Parks and Collins are touring together, he is making a special side-trip to play solo at Arcosanti. And he is playing his beloved "very rare" vintage 1953 Gibson electric jazz guitar for the performance.
"I'll be playing bluesy, swampy things at Arcosanti," he said, reflecting his Southern roots (he was born in Jacksonville, Fla.) and influences by his band, Swamp Cabbage.
He also is playing songs from his new album.
"I call it 'Western landscape music'," Parks said. "It explores the frontier of modern human spirit in a place of boundless frontier; it explores human potential. If we can get our minds out of the way, we have a boundless human potential."
He describes the album's music as "softer, mellow tunes."
"I look at my guitar as a six-string chamber ensemble," Parks said. "This music is very orchestral. It's inspiring for everyone, not just artists."
Parks' concert begins at 7:30 p.m. Saturday. Arcosanti is located 51 miles southeast of Prescott, off I-17 and Scenic Loop Road in Cordes Lakes. Tickets are $10. For more information, visit arcosanti.org.
To read more about Parks, or to listen to samples of his music, visit walterparks.com. To listen to music samples of Swamp Cabbage, visit grassyhillentertainment.com.