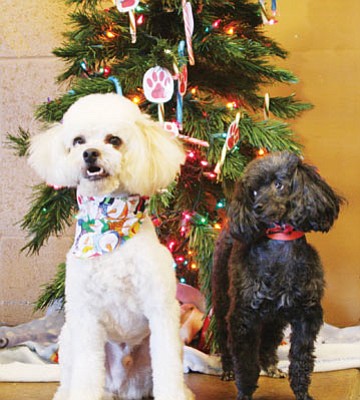 Originally Published: December 7, 2011 10 p.m.
The Yavapai Humane Society (YHS) Thrift Shop is announcing a Shop and Adopt event that has something for everybody. The event is scheduled for Saturday from 10 a.m. to 2 p.m. at 1046 Willow Creek Road in the Willow Creek Plaza (also known as the Safeway shopping center next to the new C-A-L Ranch store).
The YHS Thrift Shop will present many of the society's favorite, most adoptable pets at the event - and all adoptions are 50 percent off! The reduced fees include spay/neuter surgery, vaccinations and a micro-chip - a $450 value. No adoption will cost more than $60; many will be less.
In addition, all YHS Thrift Shop merchandise will be discounted 50 percent - and, as an added bonus, if you adopt a pet at this event, you will receive a 50 percent off coupon for the Thrift Shop, valid through Christmas Eve. The merchandise includes a vast array of gently used household items, clothing, electronics and furniture, lovingly refurbished by YHS volunteers and sold below market value. With so many Christmas items and gifts for sale, this could be the deal of the year! The Thrift Shop is open until 4 p.m.
The mission of the YHS Thrift Shop is to raise money to help animals rescued by the Yavapai Humane Society. Not only is the YHS Thrift Shop the destination of choice for deal-seekers and thrifters, but when you buy there, your money goes to helping thousands of needy pets rescued by the Yavapai Humane Society.
If you want to help animals in need but find it difficult to work at an animal shelter, consider volunteering at the YHS Thrift Shop. The Thrift Shop is looking for volunteers to help sort inventory, research prices, help launder clothing, repair furniture and electronics, maintain the cleanliness of the store, and pick up large donations from the public in our new truck. If you are interested in volunteering, visit the YHS website at www.yavapaihumane.org, click on the Help tab and select Volunteer. Or you can call the YHS community outreach coordinator, Erin Vredeveld, at 445-2666, ext. 16.
Whatever your involvement at the Thrift Shop - donor, customer or volunteer - you play a significant role in funding many of the society's life-saving programs. You enable YHS to continue its good work in this challenging economy. And when you come by this Saturday, you just might save a life, too!
The YHS Thrift Shop is open for business from 10 a.m. to 4 p.m. Mondays through Saturdays. Merchandise can be donated from 8 a.m. to 3 p.m. on these same days. Your donations and patronage are greatly appreciated. Please contact the YHS Thrift Shop at 445-5668 if you have any questions about donating items.
All adoptions at the Yavapai Humane Society are 50 percent off throughout the month of December. Consider bringing a pet home for the holidays.
Spay/neuter note: If you are not in the market to adopt a pet because you already have one (or more) and he or she (or they) still need to be spayed or neutered, call the YHS Low-Cost Wellness Clinic at 771-0547 to schedule an appointment today. You can schedule an appointment to have your pet spayed or neutered on any Tuesday, Wednesday or Thursday. If your pets need vaccinations, the Wellness Clinic is open every Friday just for vaccinations and microchips. You can bring your pets to the clinic on any Friday without an appointment. The YHS Wellness Clinic is located at 2989 Centerpointe East in Prescott.
YHS gift certificates: If you are looking for that perfect present, give the gift of life with a YHS gift certificate good for adoptions, vaccinations, microchips, spay/neuter services, and/or merchandise. Gift certificates can be purchased in any amount at the YHS Adoption Shelter at 1625 Sundog Ranch Road; at the YHS Spay/Neuter Clinic at 2989 Centerpointe East; or over the phone at 445-2666.
Ed Boks is the executive director of the Yavapai Humane Society. He can be reached at eboks@yavapaihumane.org or by calling 445-2666, ext. 21.
More like this story