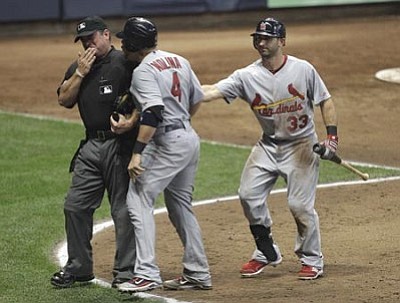 Originally Published: August 9, 2011 10 p.m.
Major League Baseball imposed a five-game suspension against St. Louis Cardinals catcher Yadier Molina for his actions in the 10th inning of a game against Milwaukee on Aug. 3.
In a news release, MLB referred to Molina's conduct as "inappropriate actions, which included making contact with umpire Rob Drake multiple times and spraying him with spittle twice," after Drake called Molina out on strikes.
To Molina's credit, he accepted full responsibility for his actions and agreed to serve his suspension immediately in lieu of an appeal. That decision may have had more to do with the fact that the catcher was already out of the lineup due to an injury on the day the suspension was announced by MLB.
Molina claimed he never intentionally spit on Drake.
Whether intentional or not, the tape of the incident clearly shows that in addition to the heated exchange between the catcher and umpire, Molina made physical contact with Drake on several occasions and something flew out of Molina's mouth onto the umpire.
Suffice it to say the spectacle wasn't Molina's finest hour.
So who's to blame for the latest conflagration between a player and an umpire?
While it's easy to blame Molina, it would also be ignoring reality. It would be akin to blaming school children for playing computer games instead of doing their homework.
The fact is MLB has a player-umpire problem and it has only itself to blame.
MLB umpires have one of the best and at the same time, one of the worst jobs on the planet.
They hone their craft as underpaid nomads in the Minor Leagues for a decade or more, hoping for a call to the bigs. If they aren't selected for a Major League position in what MLB considers a reasonable time frame, they are unceremoniously sent home for good.
But once anointed as a Major League umpire, the men in blue have something in common with federal judges: For all intents and purposes they serve for life, regardless of their fitness or competence for the position. That doesn't sit well with players, who earn, on average, ten times what senior umpires earn.
Yet players are graded pitch-to-pitch and at-bat to at-bat. If they don't produce, unlike umpires they can be sent back to the Minors, traded or released, subject to the terms of the Collective Bargaining Agreement.
In addition, MLB "shelters" umpires by prohibiting them from speaking to the media and refusing to announce what, if any, discipline it imposes against them. That's in sharp contrast to player discipline, which, like Molina's, is swift and public.
For incidents such as Molina's, MLB needs to mete out punishment that fits the crime.
If players know their actions will be met with stiff suspensions - say, 30 days - they may think twice before initiating a physical encounter with an umpire.
It's one thing to lose your cool and say something in the heat of the moment. But there is no place in the game for physical confrontations between players and umpires.
As stated in this space before, some MLB umpires aren't qualified for the position. For the record, Drake is neither the best nor the worst Major League umpire.
While the replays suggest Drake was wrong on the called third strike, umpires, like players, aren't perfect. But they don't deserve to be treated like sub-humans by players.
Drake handled Molina's meltdown with admirable restraint, as umpires are trained to do. Doing otherwise might have subjected him to MLB discipline.
Still, it's easier to preach discipline and restraint than to practice it in the heat of the moment. For that, Drake proved he deserves his dust broom and indicator.
Perhaps the biggest issue between players and umpires is the lack of mutual respect. After last year's playoffs, players requested a sit-down with the men in blue to discuss their differences.
The meeting eventually took place during Spring Training. What, if anything, was accomplished is unknown, although the parties agreed to meet again this year.
The disconnect between players and umpires is almost as old as the sport itself and won't be reversed any time soon. But there's much MLB can do to ease the tension between the parties and reduce the chance of incidents like the Molina-Drake altercation. And the sooner the better for everyone.
Jordan Kobritz is a former attorney, CPA, and Minor League Baseball team owner. He is an Assistant Professor of Sport Management and Sport Law at Eastern New Mexico University, teaches the Business of Sports at the University of Wyoming, and is a contributing author to the Business of Sports Network. Jordan can be reached at jkobritz@mindspring.com.