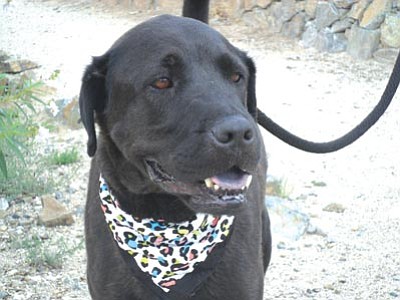 Originally Published: August 3, 2011 9:56 p.m.
You are invited to the community's most important animal welfare event of the year, the Yavapai Humane Society (YHS)'s "Reigning Cats and Dogs Gala," scheduled for 6 p.m. Saturday, Aug. 27, at the Prescott Resort.
YHS is the largest animal welfare organization in our community, caring for significantly more animals in need than all other local organizations combined. Proceeds from the gala will help to continue YHS's many life-saving programs. Tickets can be purchased for $75 each by calling 445-2666 or through www.yavapaihumane.org. A table for 10 guests is $700. You can also bid online for many valuable auction items starting Monday, Aug. 15.
There is so much to celebrate at this year's gala. Some of the more noteworthy accomplishments of the past year include:
• The dramatic 68 percent reduction in our community's pet euthanasia rate.
• The opening of Betty's Cattery, a beautiful state-of-the-art facility that houses adoptable cats in 24 attractive condos and two community rooms - where "kitty cams" will soon allow you to watch the playful antics of our felines online from the comfort of your home or office.
• The installation of new commercial laundry equipment - which allowed staff and volunteers to finally eliminate the heretofore insurmountable mountain of dirty laundry. Thanks to this gift, YHS is now able to keep up with all its laundry needs and make sure every animal has a comfortable clean blanket - especially important during the winter months.
• Equally exciting is our new dog grooming station where shelter animals are bathed and groomed to look their best for potential adopters. Local groomers are invited to volunteer four or more hours each month to help groom shelter animals; in return, YHS will help promote their business.
• Have you heard YHS is going green? We're about to complete the installation of a large solar array which will generate free electricity and hot water.
The cattery, laundry and grooming facilities were made possible thanks to generous donations; the solar project is the result of a grant.
As if all this were not enough to celebrate, concurrent with all the above projects:
• The YHS Spay/Neuter & Wellness Clinic (located at 2989 Centerpointe East, Prescott) continued its life-saving mission by spaying and neutering nearly 3,000 pets, administering over 7,000 vaccinations and implanting more than 400 microchips. These services directly helped reduce pet overpopulation and disease in our community and the killing of animals in our shelter. Call 771-0547 for an appointment for your pet.
• Six days a week, the staff and volunteers at the YHS Thrift Shop take in gently-used household items, clothing, electronics, and furniture. They lovingly refurbish and sell these items below market value and the proceeds fund many YHS life-saving programs. The shop is located at 1046 Willow Creek Road and is open for business from 10 a.m. to 4 p.m. Monday through Saturday. Consider volunteering there, too.
• The Petsmart Adoption Center, run by dedicated YHS volunteers, augments YHS's Cat Adoption Program and is responsible for caring for and placing many wonderful cats into loving homes.
• YHS also saw the formation of a distinguished all-volunteer board of directors; seven volunteer auxiliary committees; and the rejuvenation of a robust volunteer program.
YHS has undergone a remarkable transformation this past year thanks to our employees, volunteers, supporters and partners - and this year's Reigning Cats and Dogs Gala is our opportunity to celebrate this transformation together. So get your tickets today.
If you own a local business, ask about our corporate sponsorship opportunities and join Olsen's Grains, Hooligan's Pub, Prescott Dog, National Bank, Jebco Building Systems, Weber's Insurance, Whiskers Barkery, Invisible Fence and The Alarm Connection in their support of YHS.
If you are interested in helping expand the Yavapai Humane Society's circle of compassion, email volunteer@yavapaihumane.org or call 445-2666, ext.16, to find out how you can help. Together we will continue to make Yavapai County the safest community in Arizona for our pets. I look forward to seeing you at this year's Reigning Cats and Dogs Gala.
Ed Boks is the executive director of the Yavapai Humane Society. He can be reached at eboks@yavapaihumane.org or by calling 445-2666, ext. 21.