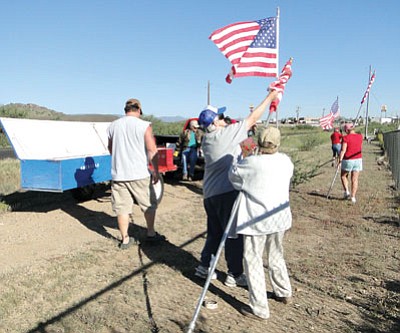 Originally Published: September 15, 2010 9:20 a.m.
On Saturday, Sept. 11, the American Legion Post 122 and many volunteers posted the flags on the Avenue of Flags.  
This is a sad day in history and one that will not be forgotten by the American people.   Many firemen went into the Twin Towers, and 343 firemen never came back out.  They all went in knowing that they may not come out alive; however, their thoughts and training were focused on the many people that needed their help.
With all of the local volunteers, the flags went up quickly.  There is always a prayer, the Pledge of Allegiance, and a short talk.  Thus, it was that Ron Johnson, commander of Post 122, said with a catch in his voice that we will never forget what happened on Sept. 11, 2001, and cannot forgive those who deliberately take lives and create such destruction. It is impressive to view the Avenue of Flags, and exceptionally so on this special day of remembrance.  
In other news, the flag that flies at C.J. RV Park is on a special trip.  It will be flown at the State Capitol, and was requested to be flown on 9-11.  From there, it will travel to Arlington National Cemetery to be flown a day there.  It will then return to Cordes Junction to reside at the RV park.
More like this story