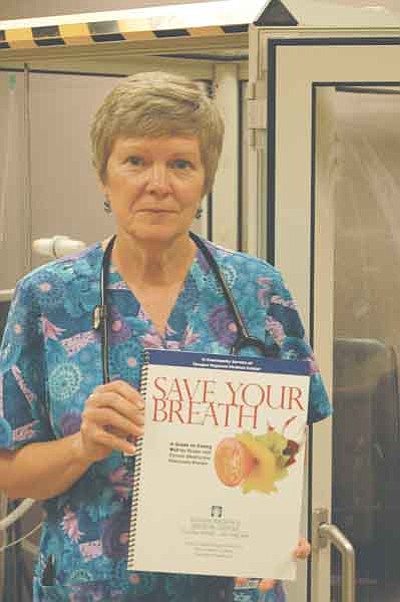 Originally Published: October 31, 2010 10 p.m.
PRESCOTT - Chronic obstructive pulmonary disease (COPD) is the third leading cause of death in Arizona and the fourth leading cause nationwide, according to the American Lung Association.
An estimated 278,000 people in Arizona have COPD, the association's website states. COPD is the only major disease that is growing in prevalence and mortality while all other major causes of death are declining.
Smoking is the biggest cause of COPD, and its primary symptoms are chronic cough and shortness of breath, said Elizabeth Page, respiratory wellness coordinator and senior respiratory practitioner at Yavapai Regional Medical Center here.
Page is doing her part to reduce suffering of COPD patients.
A member of the Respiratory Care Services team at YRMC since May 2006, Page said she splits half of her time in the emergency room or intensive care unit. She spends the other half in one-on-one patient education and counseling for people with COPD.
Page also teaches two Breathe Easier classes a month at the hospital.
Her dedication to educating people about respiratory health inspired her to write "Save Your Breath: A Guide to Eating Well for People with COPD."
YRMC published the 42-page, spiral-bound guide, which offers nutrition information, exercise tips, safety instructions for cooking with oxygen and community resources for people with COPD.
"The food you eat can have a lot to do with trouble you have breathing and many other health problems," Page said. "When people don't feel well, they don't eat well."
Page took on the project in the first place because she could not find any similar publications, according to ADVANCE for Respiratory Care & Sleep Magazine.
An article in the October issue of the publication announced Page received the "best practitioner" honor in the 10th annual National Respiratory Achievement Awards. ADVANCE solicited submissions from readers from throughout the country.
Page, 60, of Prescott Valley received a $250 cash prize and a plaque.
Page and her peers observed Respiratory Care Week this past week. Respiratory therapists nationwide screened people for COPD.
She said she became a respiratory therapist after graduating from high school in Seattle in 1968.
"It seemed like interesting work," Page said. "There is always a lot of amazing and miraculous things that happen with health care."
Page drew praise from Rafael Merlé, YRMC's director of cardiopulmonary services.
He cited her involvement in educating patients.
To obtain a copy of her guide, log onto http://www.breatheeasyaz.org.
Editor's note: If you have a suggestion of a local person to feature in Achievers, call 445-3333, ext. 2041, or send an e-mail to khedler@prescottaz.com.