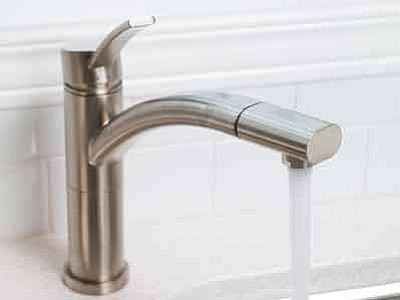 Originally Published: October 15, 2010 9:56 p.m.
PRESCOTT - With its hilly terrain, Prescott has more than triple the number of pressure zones to deal with in its water and sewer systems than any comparable community in the area.
That means that the city's system uses a complex network of booster stations and water tanks to maintain the appropriate water pressure for its 22,000 customers.
Along with its 85 pressure zones, the city also uses 40 booster stations and 30 water tanks. That compares with Prescott Valley's 25 pressure zones, Cottonwood's 22 booster stations, and Flagstaff's 12 water tanks.
That was all part of the information that Prescott Regional Programs Director Craig McConnell presented Thursday night as a part of a proposal to raise water and sewer rates.
The public meeting at Prescott City Hall was just the first in what will be a fairly lengthy process for a possible increase in rates. If all goes as the city proposes it, the Prescott City Council would make its first decision about rate increases on Nov. 9, when a notice of intention to raise rates could be on the agenda.
After that, a December public hearing would take place, and the council could make a final decision in January 2011. Assuming council members approve them, the new rates could be in effect by March, and could show up on city water and sewer bills by April.
As proposed, the increases could add about $8 per month to a bill for the average water/sewer customer in the first year. For that average customer - using about 5,000 gallons of water and 5,000 in wastewater - the bill for water could go from about $27 per month to $31. And for wastewater, the bill could go from about $26 per month to $30 per month. Overall, the monthly bill could go from about $53 to $61.
The city also proposes incremental increases for the next five years. Along with the 15-percent increase in the first year, the city is proposing a 12-percent increase in 2012, an 11-percent increase in 2013, a 7.6-percent increase in 2014, and 5-percent increases in 2015 and 2016.
By 2016, the monthly water and sewer bills for an average residential customer would have gone from $53.12 to $90.42.
Because the city uses a tiered rate structure that makes large water users pay more, the rate increases would be different for various levels of water users.
For instance, for customers using 25,000 gallons of water per month and 15,000 in wastewater, the proposal would raise rates from between 5.1 percent to 9.5 percent over the next six years. Overall, the large water user's monthly bill would go from an average of $244 now to $356 in 2016.
In addition, the non-residential rates, including restaurants using 130,000 gallons of water per month, would increase annually by between 1.1 percent and 3.6 percent over the next six years. That would increase average monthly rates from about $1,334 now to about $1,543 by 2016.
For the school/college category (450,000 gallons per month), rates would go up between 3.7 percent and 8.6 percent per year, taking the average monthly bills from about $2,386 to about 3,353 in 2016.
While McConnell maintained that the complexity of Prescott's system adds to the costs, he also emphasized the system's age. "It is not unusual to dig up a line and find a 60-year-old or 70-year-old water main," he said.
Despite the age, however, McConnell maintained that the city has not always put money aside to update its system - especially its wastewater (sewer) system.
"Over decades and decades, the funds just weren't set aside," McConnell said.
While the city originally proposed rate increases in January of this year, the City Council opted to postpone the increases until later in the year.
The proposal that the city is now considering is the result of that direction. City officials came up with the proposed rate-increase structure to deal with some of the improvement issues.
"Candidly speaking, if we don't have wastewater rate increases, we're going to be in a world of hurt," McConnell told the handful of people who turned out for the Thursday night meeting.
One of those audience members had a strong objection with the timing of the rate increases. Sandy Griffis - while she said she understood the need for the rate increases - voiced a concern about imposing them now, in the middle of a recession.
"I know we need to fix our water and sewer (systems), but, we're penalizing people right upfront," Griffis said. "It is not fair to do it right now when people are having trouble paying their mortgage payments."
The city will next discuss the proposed rate increases at a public meeting at 6 p.m., Oct. 21, at Prescott City Hall, 201 S. Cortez St. The issue is then scheduled to go to the City Council at a Nov. 2 workshop, and again on Nov. 9 for possible approval of the notice of intent to raise rates.