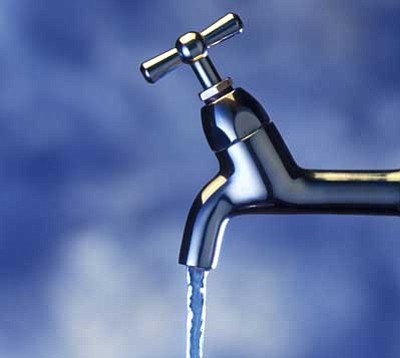 Originally Published: November 29, 2010 10:02 p.m.
Anna Ferko has nearly 50,000 reasons to question the City of Prescott.
Ferko is trying to wrap her head around her late-September water bill from the city charging her $584.10 for using 47,344 gallons at her Piñon Oaks home.
"I just feel like I'm being taken for a real ride here," she said. "I feel like I'm living in communist China here, I mean just because they say so, I'm being forced to pay?"
The tale begins in August, when Ferko said she bought the foreclosure property and got the water bill. She said she didn't do any laundry at the home until roughly Sept. 8.
Her son and two other roommates live in the home and Ferko now lives in Houston.
Ferko said she called the city and she said a city employee told her the meter wasn't the problem and suggested that she might have a leak at the home, which she disputes.
"I said there's no leak and I was so positive there was no leak, I didn't even have a plumber come out and do any kind of repairs," she said.
Ferko points to her following two months of bills, which were $62.41 for 3,470 gallons of water usage and $59.62 for using 2,940 gallons.
And Ferko said city staff also suggested that a neighbor could have stolen water, which happens in Arizona because water is so expensive.
Ferko got a water history of the property from the city going back to March 2006. The data show water use at the property at the low side of 1,047 gallons in January 2007.
The print-out shows water use broke the 8,000-gallon mark three times and the 13,000-gallon mark twice.
Water use at the property hit 20,869 gallons on Dec. 17, 2009, and hit 21,094 gallons four days later, which still is less than half of the gallons she got charged for in August 2010.
While Ferko is near her boiling point, the city's position is that she basically got a bill for the water that went to the home.
Budget and Finance Director Mark Woodfill said, while he cannot discuss a customer's account information with anyone who isn't on the account to protect their privacy, he did say, "Whether or not they had a leak or where the water went, is something that we don't have the ability to tell her. All we know is that it went through the meter."
Woodfill said a faulty meter reading is usually caught the following month and extraordinarily high readings are flagged and a meter reader goes out to double check it.
"Even if we didn't, the next month when we read it, she would have had negative usage," he said. "If the meter is spinning out of control, we will attempt to make contact. If it's a high read, we send leak letters."
When asked if that's a normal residential water bill, Woodfill said some people use 30,000 to 40,000 gallons of water a month for various reasons.
But Woodfill also said a water bill in the $50 to $60 range is normal.
"Whenever we find a mistake in the reads, we fix it," he said.
Woodfill said the city checked both the old meter and the new one at Ferko's home.
And Woodfill said the city also offers a one-time credit option for people who have water leaks, where the city effectively splits the cost of the water with the property owner, which is what happened with Ferko.
"Next summer when you have a leak in your drip irrigation system and 100,000 gallons go through the meter, we don't split that with you, you're stuck with that one," he said.
For her part, Ferko paid $339.04 because she didn't want to pay interest and she wanted to protect her credit.
But Ferko said she "highly doubts" the home's neighbors stole the water and she can't see how her Prescott home used twice as much water as her 23,000-gallon pool in Houston.
"They're saying I used twice the amount of water that's in that pool, it's just ridiculous," she said.
More like this story