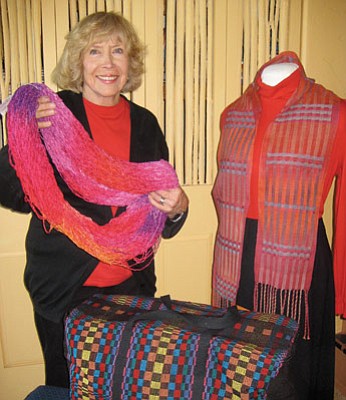 Originally Published: November 9, 2010 9:49 p.m.
One-of-a-kind handmade objects that local artists have created will go on sale at the Mountain Spinners and Weavers Guild and Prescott Area Woodturners Holiday Show and Sale Saturday, Nov. 13.
The event will take place from 10 a.m. to 4 p.m. in the Marina Room of the Hassayampa Inn, 122 E. Gurley St.
For textile lovers, there will be a vast array of hand-spun, hand-dyed and hand-woven gifts, plus artisan yarns and beaded treasures, all a celebration of color, texture and pattern. The show and sale will also feature wearable art and fashion accessories for the whole family, home décor and jewelry, as well.
The woodturners' offerings include designs in regional and exotic woods, with natural colors and lustrous finishes. Other highlights woodturners have crafted for the show and sale will include bowls and vases of various sizes, lidded boxes and Christmas ornaments. Many of these items are from found woods, such as local cottonwood, Arizona walnut, maple, locust, mesquite or Russian olive.
Mountain Spinners and Weavers and Prescott Area Woodturners are made up of artisans and craftspeople from the quad-cities. Both offer members the opportunity to expand their art and polish their talent.
The groups meet monthly and welcome guests to programs that are educational, including both demonstrations and workshops.
For more information, visit the Mountain Spinners and Weavers' website at www.mtnspinweave.org or e-mail mswgsale@gmail.com.
More like this story