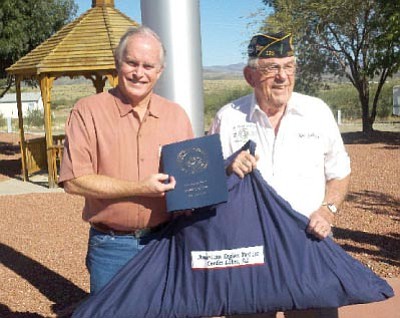 Originally Published: November 3, 2010 9:49 a.m.
The Cordes Junction Motel & 50's Diner has dedicated its flagpole and a 12-foot by 18-foot American flag to the Post. On Memorial Day, gubernatorial candidate Buz Mills and Sen. Steve Pearce dedicated the flag.
Sen. Pearce arranged to fly the flag over the Arizona State Capitol on Patriot Day, Sept. 11. Secretary of State Ken Bennett certified the action. The next stop, through the office of Sen. John McCain, is to fly the flag over Arlington National Cemetery on Veteran's Day. The flag should be home by the holidays.
The Cordes Lakes American Legion Post 122 with more than 40 active members, benefits those veterans who served during a wartime period.
Cordes Lakes American Legion Post 122 Cmdr. Ron Johnson's dream is to one day construct a Legion Post building in the Cordes area.