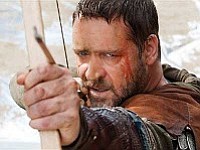 Originally Published: May 14, 2010 12:20 a.m.
The following movies are showing at Harkins Prescott Valley Cinemas, 7202 Pav Way, Prescott Valley (Highway 69 between Glassford Hill and Lake Valley roads). 775-7444; www.harkins.com.
THE BACK-UP PLAN - A single woman opts for artificial insemination, only to finally meet the man of her dreams just as she learns she's pregnant. Cast: Jennifer Lopez, Alex O'Loughlin. Rated PG-13 for sexual content, some crude material and language. Romantic comedy.
CLASH OF THE TITANS - Half-god, half-mortal Perseus must battle unholy demons and fearsome beasts to stop Hades from unleashing hell on Earth. Cast: Sam Worthington, Liam Neeson, Ralph Fiennes, Gemma Arterton. Rated PG-13 for fantasy action violence, some frightening images and brief sensuality. Action/Adventure/Fantasy.
DATE NIGHT - A run-of-the-mill married couple's date turns into a mistaken-identity-fueled action-packed adventure. Cast: Tina Fey, Steve Carell, Mark Wahlberg, James Franco. Rated PG-13 for sexual and crude content throughout, language, some violence and a drug reference. Comedy.
FURRY VENGEANCE - Animals wreak havoc on the developer who's trying to build a housing development on their land. Cast: Brendan Fraser, Brooke Shields. Rated PG for some rude humor, mild language and brief smoking. Comedy/family.
HOW TO TRAIN YOUR DRAGON - Hiccup, a Viking teenager who doesn't exactly fit in with his tribe's longstanding tradition of heroic dragon-slayers, meets a dragon that challenges him to see the world from a different point of view. Voice cast: Jay Baruchel, Gerard Butler, America Ferrera, Craig Ferguson. Rated PG for sequences of intense action and some scary images, and brief mild language. Fantasy/Adventure/Family.
IRON MAN 2 - Billionaire inventor Tony Stark is under pressure from the government, the press and the public to share his Iron Man armor technology with the military, but he's unwilling to divulge the secrets because he fears the information will slip into the wrong hands. Cast: Robert Downey, Mickey Rourke, Scarlett Johansson, Don Cheadle, Gwyneth Paltrow. Rated PG-13 for sequences of intense sci-fi action and violence, and some language. Action/Adventure.
(NEW) JUST WRIGHT - When NBA all-star Scott McKnight suffers a debilitating injury, tough-talking physical therapist Leslie Wright pulls out all the stops to get him back on his game. But their professional relationship soon turns personal. Cast: Common, Queen Latifah, Paula Patton, Phylicia Rashad. Rated PG for some suggestive material and brief language. Romantic comedy.
LETTERS TO JULIET - A young American travels to the city of Verona, home of the star-crossed lover Juliet Capulet of "Romeo and Juliet" fame, she joins a group of volunteers who respond to letters to Juliet seeking advice about love. After answering one letter dated 1957, she inspires its author to travel to Italy in search of her long-lost love. Cast: Amanda Seyfried, Vanessa Redgrave, Christopher Egan, Gael Garcia Bernal. Rated PG for brief rude behavior and sensual images, some language and incidental smoking. Romantic comedy.
NIGHTMARE ON ELM STREET - The teens of Elm Street are all having the same dream of the same man, who's wearing a tattered red-and-green-striped sweater, a fedora half-concealing a disfigured face, and a gardener's glove with knives for fingers. His name is Freddy Krueger, and he hunts the kids down one by one in the dream world, with deadly consequences in the real world. Cast: Jackie Earle Haley, Kyle Gallner, Katie Cassidy, Rooney Mara. Rated R for strong bloody horror violence, disturbing images, terror and language. Horror.
OCEANS - Nearly three-quarters of the Earth's surface is covered by water, and this film chronicles the mysteries that lie beneath captured by the latest underwater technologies. Narrated by Pierce Brosnan. Rated G. Documentary.
(NEW) ROBIN HOOD -Russell Crowe and director Ridley Scott mark their fifth collaboration with this retelling of the classic Robin Hood legend. Cast: Russell Crowe, Mark Strong, Max Von Sydow, Cate Blanchett, William Hurt, Matthew Macfadyen. Rated PG-13 for violence and some sexual content. Action/adventure.