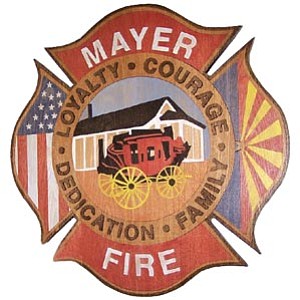 Originally Published: May 11, 2010 10:50 a.m.
Four out of five members on the Mayer Fire Board resigned this past week, indicating all is not well in the district office.
Despite the internal issues, Mayer Fire Chief Glenn Brown said the fire department continues to give exemplary service to the community.
"It's the politics in administering the management of the district," he said. "The guys on duty are doing their job and doing it well."
While Board Chairman Earle (Skip) Yost acknowledges some disagreements with Brown, he said the resignations of the four board members - Clerk Pamela Kaufman, James Baker Jr., Darrell (Bud) Abbott and John Kennedy - came as a complete surprise to him.
"I don't know if they are mad at me or at Chief Brown," Yost said this past week.
Yost said he recognized, as board chairman, that some things in the Mayer Fire District needed changing, and some of those changes perhaps haven't sat well with Brown. These included issues with the front office staff, uneven salaries among the firefighters, a Division of Occupational Safety and Health violation, and a vote of no confidence by the Mayer Chapter of the IAFF Local 3066.
The four board members gave different reasons for their resignations. Abbott, the longest serving member, elected to the board in December 2006, said he was resigning for health reasons, and recognized "problems" within the board, but would not specify what those were.
Kaufman, too, attributed health concerns for her decision to quit, and Baker listed "personal reasons" in his letter of resignation.
Kennedy gave no reason in his letter. In a Wednesday phone conversation, he said there were internal problems amongst the department, the board, the chief and some firefighters.
"It seemed like it was insurmountable," Kennedy said. "Plus, we were told that we could be held personally liable for things that we did and were doing, Open Meeting Law violations and things of that nature."
Brown sent a letter to board members in March in which he said he hoped to clear the air of inaccurate and unfounded information. He said on several occasions people spoke to him about matters that came out of the board's executive sessions.
"In addition, the Chairman is sharing confidential personnel information with members of the department. I am concerned that members of the district governing board are putting themselves and the Mayer Fire District in danger by violating our own adopted policies, state laws governing the Open Meeting Law, and specifically, executive sessions," he said.
An Arizona Solicitor General's Office representative said Monday there have been no complaints filed against the board as of April 9. A more current check was unavailable at press time.
At the final meeting on April 26, prior to the resignations, the board went into executive session to discuss a grievance issue, the use of a human resource specialist and legal counsel, a response to a complaint from the Division of Occupational Safety and Health regarding the handling of an attempted whitewater rescue operation, Chief Brown's contract, and Brown's allegations against the board or board chair.
When the board reconvened in open session, it took no action on any of the executive session agenda items, although Yost tabled the chief's contract on his own and stated the board would pay the attorney's bill, without the board's vote on any item.
Yost said he was disappointed and discouraged, but would remain as the board's lone member. Without a quorum, however, he cannot approve any of the policy changes on which the board agreed, nor can he alone accept the resignations.
In cases like these, the Yavapai County Board of Supervisors appoints an administrator to act as the Fire Board, said County Supervisor Tom Thurman. He is looking for someone with fire department experience, perhaps a retired fire chief, he said.
"It will be a paid position until the November elections, and Mayer Fire will pay for it. Right now, the whole board is dissolved," Thurman said, adding that two members pre-signed checks so that the department could meet its next payroll.
He expects the Board of Supervisors to appoint an administrator at its May 17 meeting.
Kennedy said he didn't know what changes are needed for him to run for election again - maybe a different chief, maybe a different board.
"I hope they get their differences straightened out. This could be a wonderful place to work and be on the board," he said.