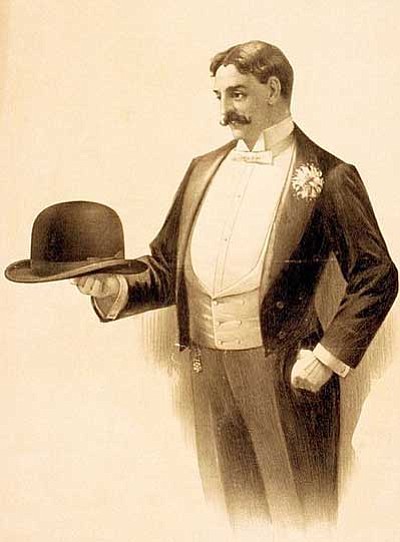 Originally Published: May 3, 2010 3:22 p.m.
If you were to ask me the most important thing we are teaching our son, the answer would have nothing to do with the "three Rs". My answer would be good manners.
My husband warns me that taking on this subject is going to make me sound preachy. Oh well, consider yourself warned, gentle reader; it certainly wouldn't be the first time.
My motivation is as follows: I want my kid to be polite on auto-pilot, without thinking about it, just to follow the rules, so that eventually when he is older and has better decision-making skills, he will choose to be considerate of people. This is how cognitive behavior therapy works. Focus on the behavior first, and that repetition will ultimately reset the mental activity behind it.
Good manners are the manifestation of the Golden Rule. They are how we show care for others. The other great thing about good manners that also holds true for good speaking and writing is that they are a class-leveler. No matter your background, a little etiquette awareness and a grasp on how to behave in "polite society" will give you an edge: at school, in the work place, in job interviews, and in any of life's many situations where you are interacting with someone who has the clout to help or hurt you. I believe I am stocking the life success tool box for him.
The other reason manners are a core tenet of my personal messaging platform: if everyone had good manners, the world would be so much more pleasant and civil than it is today. The car that cut you off in traffic, the customer service clerk who was dismissive - manners!
I'm not talking about the heavy-duty, "Brideshead Revisited", in-which-direction-do-I-ladle-from- the-silver-soup-tureen manners. I'm talking about the basics (disclaimer: I rarely earn an A in lady-like. For one thing, I curse like a sailor).
• Above all, be considerate! Share your stuff; don't be a bully; place others' needs first. Put them at ease. Don't use your knowledge of manners and mannerisms to be stiff and superior - that puts people off.
• Table Manners 101. Elbows, napkin, holding the silverware, chewing properly - just don't be gross.
• Basic conversation skills. Don't interrupt; leave the politics, religion and money at the door. Hold up your end by asking questions. Make an effort and be (act?) interested in the person you are speaking to. I have never met anyone from whom I couldn't learn something.
• Always say please and thank you and ask if you can be excused.
• Manners for the new millennium: don't text or talk on your cell phone when you are spending time with a real live person.
• Thank you letters. Just takes a few minutes.
A couple of of my favorite manner examples, which I read in the Preppy Handbook when I was about 12 (as an adolescent I was all about preppy. I insisted everyone call me Cuffy one summer):
- When someone rear-ends your car, instead of exchanging insurance and calling the police, you figure out that your brother and his sister went to grammar school together so you go out for beers.
- When a guest unknowingly drinks the contents of his finger bowl, you unflinchingly do the same. Because good manners are all about putting your guests at ease.
The one area where I'm not sure what to do/teach/model is around gender-related etiquette these days. Should a man still open the door for a woman? Pull out her chair? Offer his arm in the street? Or would this kind of behavior offend the contemporary woman? I've noticed most of my male colleagues don't do this kind of thing because they are probably concerned I would sue them! So I'm asking for guidance here.
I'd be interested to hear how important etiquette is/was when you are/were raising your kids. Does it seem superficial? Unimportant? Maybe antiquated in the era of the instant message? Have we simply moved beyond Emily Post or is there still room in this fast-paced world for raising young ladies and gentlemen?
More like this story