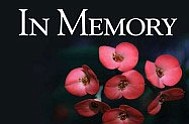 Originally Published: June 21, 2010 10 p.m.
Marion E. Braucher of Prescott, Ariz., passed away Wednesday, June 16, 2010, of complications from a stroke. She was born May 2, 1929, in Massillion, Ohio, and was the older sister of Milton and Fay Yearkey.
During her life, she was a graduate of Kent State University, a teacher at Plain Local School for 10 years and a homemaker.
She is survived by husband, Herbert Braucher; sister Jeanette Spague and husband Alfred; son Bruce, his wife Megan and daughters Kayley and Breeann; son David, his wife Bonnie and daughter Nicole.
Services will be Saturday, June 26, at 1 p.m. at the American Evangelical Lutheran Church in Prescott.
Information provided by survivors.