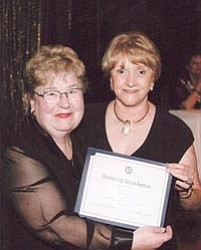 Originally Published: June 14, 2010 10 p.m.
Winner of the Arizona State and the Southwest territory Community Service Award is Patsy Ray she is being presented with her award by Faye McCoy, vice chairman of the Arizona Community Service Award and past regent of the General George Crook Chapter of NSDAR.
The General George Crook Chapter of NSDAR in Prescott, Ariz., proudly recommended Patsy Ray for the Community Service Award.
Patsy has given many hours to the Prescott Veteran's Administration, Voluntary Services to make the Veterans History Project the success it is. She implemented the project in Prescott and has been involved in all facets of this project from the interviewing, filming and speaking at various organizations around town for the fundraising of it. 
Its purpose is Preserving America's Military History from WWI to the present. This project is honoring all veterans of all conflicts and in Peacetime for the service to America. To schedule an interview, call 928-776-6013.
More like this story