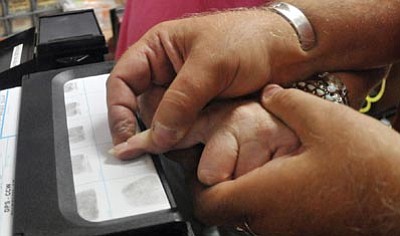 Originally Published: July 26, 2010 9:58 p.m.
True to its western heritage, Arizona has always been an "open carry" state when in comes to firearms.
Residents are free to strap on a sidearm, and, as long as the weapon is in view, walk around any place it is not illegal to have a weapon.
Anyone wanting to carry a concealed weapon, however, has had to complete and pass a concealed carry weapons class and submit an application to the Arizona Department of Public Safety. That all changes Thursday, when a new Arizona concealed carry law does away with the permit requirement.
No longer will people have to take an eight-hour course, pass a written test, qualify on a range with a handgun and submit fingerprints to the Department of Public Safety.
While the Second Amendment of the U.S. Constitution gives Americans the right to 'bear arms,' along with that right comes responsibility.
"Although we support the Second Amendment, we do not believe everyone should own or carry a firearm," said Sherrie Seibert of Insight Firearms Training Development during a recent CCW (Concealed Carry Weapons) class. "A gun is not an option for everyone."
However, for those who want to carry a concealed weapon, a CCW class, such as Matt and Sherrie Seibert's introduces people to safety, firearm laws, gun handling, gun cleaning, use of deadly force and mental control, all required by DPS.
"Safety is your number one responsibility," Matt Seibert said. "It is not good to own a gun for personal safety and accidentally shoot someone or yourself in the foot."
"Generally speaking, we always prefer people take a training class if they are going to be around firearms," said Dwight D'Evelyn, spokesman for the Yavapai County Sheriff's Office.
The best way for a person to avoid an accident is to treat all weapons as loaded until personally verifying that the weapon is empty.
To reinforce this behavior, Matt Seibert suggests an "anchor. Every time you hear someone say 'this gun is unloaded' say 'woosh woosh'. When you hear the word 'unloaded', you automatically make an assumption that is not always true."
Despite the new law, 24 people enrolled in the Seibert's July 10 CCW class.
Heather Austin, 25, of Prescott will be commuting to Arizona State University in Tempe this fall. She decided to take a "proactive approach" to personal safety.
Austin took the CCW class even though she will not need a permit after Thursday because she "wants to know what I am doing. I own a weapon, but I am not as confident as I want to be. When you own a gun, it is your personal responsibility to operate it correctly."
Permit or no permit, law enforcement representatives stressed the importance of gun training for the public.
"Training is always important in handling a weapon and legal issues," D'Evelyn said. "An eight-hour course to us is gold."
Cottonwood resident Tom Bruening, 49, is a gun owner and a hunter. While living in Colorado, he took a hunter safety class, but he attended his first CCW class July 10.
Bruening took the class to learn about laws, safety and "all the things I thought I knew, but didn't. It was well worth the money. I would recommend it to anyone, and I will."
Bruening does not think the new law is a good one, and he thinks people should have some training before carrying a concealed weapon.
Prescott Police Department spokesman Lt. Andy Reinhardt said his department is "concerned a little about people carrying so readily without any tactical training."
The elimination of the CCW permit gives people the ability to use deadly force without any training.
According to Reinhardt, a CCW course provides initial training.
"We are hearing from trainers that even after the CCW course people are asking for more training," Reinhardt said.
A CCW course is not just about proficiency on the firing range.
"It is also about the knowledge of when you can use and when you cannot use deadly force, and what to do if an officer approaches while you are carrying a concealed weapon," Reinhardt said.
Prescott Valley Police Department Sgt. Brandon Bonney said when anyone carrying a concealed weapon comes in contact with law enforcement he or she should immediately tell the officer they are carrying a concealed weapon.
"Never reach for your weapon. Let the officer tell you what he wants you to do. Avoid any situation where an officer feels threatened," Bonney said.
Elizabeth Pearce, 30, of Cottonwood, said she would be willing to take more classes, "To get my mind more prepared to use a weapon."
Pearce works for LaserLyte, which makes lasers for firearms. The company paid her class fees. She learned a lot about the laws and "how people try to get around them."
Bonney said it is important for people to know the "ramifications when they use a weapon. They need to know the responsibilities and liabilities when they draw their weapon."
According to D'Evelyn, there are two sides to the use of deadly force.
"There are lots of cases where people used a weapon to prevent a crime. There are also cases where a weapon is involved in domestic violence situations," D'Evelyn said. "Guns can be a tool if used properly."
For more information about carrying a concealed weapon and the legal issues relating to the use of deadly force, visit the DPS website at www.az.dps.gov/ccw/.