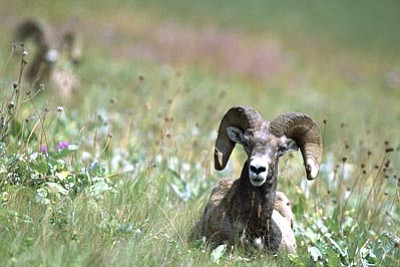 Originally Published: July 21, 2010 9:56 p.m.
The Arizona Game and Fish Department is asking for the public's help in finding the individual or individuals responsible for the illegal killing of a Rocky Mountain bighorn ram in the Black River area of eastern Arizona, west of Alpine, during the July 4 weekend.
The wild sheep was illegally shot and killed in Game Management Unit 1, adjacent to Forest Road 249, Game and Fish officials say.
"This mature ram was commonly seen, photographed and enjoyed by many visitors to the area," said Tyler Richins, wildlife manager in Unit 1. "It was needlessly killed and left to waste with nothing removed from the carcass.
"This isn't the action of a hunter," Richins added. "This is a criminal act of stealing wildlife assets and resources from the people of Arizona."
This crime is further compounded by the fact that the ram was part of the Black River bighorn herd, which, although having a stable population, has not been increasing in number for the past several years.
"Removing this older age-class ram from the population may influence the department's recommendations for future bighorn sheep hunting permits in this area," Richins said. "Bighorn sheep permits are highly sought after by sportsmen, who are a primary funding source for wildlife conservation."
The department's Operation Game Thief Program is offering a reward of as much as $4,000 for information leading to the arrest of the subject or subjects who committed the crime. The Arizona Desert Bighorn Sheep Society and Arizona Bowhunters Association are each offering an additional reward of up to $1,000 for a criminal conviction in this case.
To report information on this incident or any wildlife law violation, call the department's Operation Game Thief hotline toll-free at 800-352-0700, or report it over the Internet at www.azgfd.gov/thief. Caller identities may remain confidential upon request.