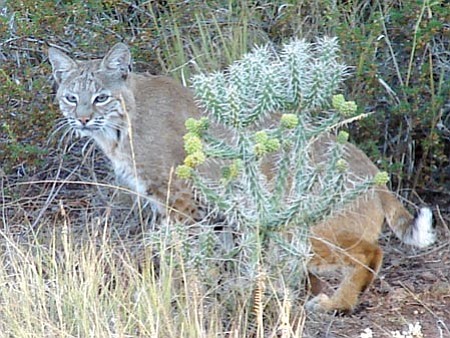 Originally Published: January 11, 2010 10:48 p.m.
PRESCOTT - Two bobcat kittens apparently will remain in the Prescott Lakes subdivision instead of being trapped and sent elsewhere.
Numerous Prescott Lakes residents have reported seeing two bobcat kittens without a mother since Prescott police killed a female bobcat in the subdivision Dec. 30.
The Arizona Game and Fish Department, Heritage Park Zoological Sanctuary, Prescott Lakes homeowners' association officials and The Daily Courier newspaper all have received numerous reports of the bobcat kittens this year.
Zoo Director Pam McLarin said she fielded about a half-dozen calls this past week from Prescott Lakes residents worried that the bobcat kittens couldn't survive on their own, because they suspected Prescott police killed the kittens' mother. She usually gets only a few calls a year about bobcats.
Concerned about the kittens' welfare and the reports she was getting, Prescott Lakes Community Association Assistant Manager Deb Aldrich asked local licensed trapper Bryan Colby to track the kittens Monday and possibly trap them for a health check and relocation if they are unable to survive on their own.
But Colby quickly concluded Monday that the kittens are old enough to survive on their own, based on the size of their tracks and neighborhood reports that they are hunting on their own.
"They'll be fine," Colby said. "I just wanted to make sure they were big enough."
Bobcats generally give birth by late summer, and kittens are weaned in three to four months, although they might stay with their mothers for a year, said Jeff Pebworth, wildlife program manager for the Arizona Game and Fish Department's Kingman office.
So these bobcats should have no problem surviving if they don't have a mother, he said. He also noted that people tend to underestimate bobcats' age if they are not full grown, because even full-grown bobcats often weigh only 12-16 pounds.
Judging by reports from residents, the Prescott Lakes subdivision apparently has an abundance of rabbits and quail living around the artificially watered golf course. Those are among bobcats' favorite food.
"If there's anywhere they could survive, it's there," Pebworth said of the bobcats.
Although no one has confirmed that their mother was the bobcat that was shot, several people said they have seen the kittens alone since Dec. 30 when they previously sighted them with an adult.
Prescott Lakes resident David Molnar saw two bobcat kittens about the size of rabbits run across Prescott Lakes Parkway at about 6:45 a.m. Thursday, near the site where a police officer shot and killed the adult female bobcat Dec. 30.
Officers came by to look for the potentially rabid bobcat Dec. 30 after a driver reported a bobcat attacking two passing vehicles Dec. 29. Officers quickly found an adult female sitting under a tree and decided to kill it because it looked sickly and showed no fear of humans.
A test later showed it was not rabid, but Arizona Game and Fish Department officials said it could have had another deadly disease that made it act unusual, such as distemper.
Game and Fish officials supported the police decision to kill the cat, which is the only way to test it for rabies. Police killed it shortly before a Game and Fish officer arrived on the scene.
Rabid bobcats attacked Yavapai County residents in three separate incidents this past year, which registered a record number of rabid wildlife.
Neighborhood sightings
Prescott Lakes subdivision resident Sharon Molinari saw the fresh remains of two quail in her yard shortly after spotting one of the kittens there Wednesday, so she has lost her concern that the kittens might not survive on their own. She lives at the end of a cul-de-sac by the Prescott Lakes golf course.
Molinari says she has spotted bobcats in or near her yard about six times in the early morning or late evening hours during the past four months.
She has seen an exponential growth in quail, estimating that as many as 250 will hang out in her yard at a time. So she doesn't mind a bit of culling by the bobcats.
She knows of several fellow golfers and neighbors who have seen the bobcats, and suspects more than one bobcat family lives in the area.
Colby agrees that the area could support two or three bobcat families, especially if the area includes the neighboring subdivisions close to Willow Lake.
"Bobcats are not that uncommon across the entire U.S.," Pebworth said. "But in a lot of places where they have really good density, people don't see them."
Prescott Lakes residents generally report that local bobcats have apparently grown used to humans, because they don't show any fear.
"It's not always the best thing, but it's not something we're probably going to do anything about," Pebworth said of the cats apparent habituation to humans.
The situation would be different if it was a bear, Pebworth said. Bears are capable of seeing humans as food once they become habituated to humans.
Molinari said she doesn't know anyone who is afraid of the bobcats. She hasn't heard of any pets being attacked, either.
Neighbors often e-mail each other about wildlife sightings, and her husband serves on subdivision committees so she hears a lot about what is going on.
Pamela Schrader saw a bobcat while walking along the Prescott Lakes golf course in October at about 5 p.m., hours before sunset.
"She crossed over in front of me and ignored me," Schrader recalled. Other neighbors told her the same thing happened to them.
"They haven't caused any trouble," she added about the bobcats.
Cathy Webb shot video last fall of a bobcat hunting in her backyard along St. James Place in the Blooming Hills area adjacent to Prescott Lakes. She has seen them around for about a decade, and they don't run from her.
However, as the Prescott Lakes subdivision has developed, she no longer sees the pronghorn that once roamed the area.