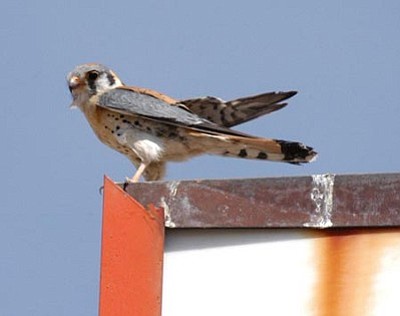 Originally Published: February 11, 2010 10 p.m.
For birding enthusiasts participating in the annual Christmas Bird Count near Kingman, the real gift was wrapped in feathers.
This past Dec. 29, 36 volunteers from Arizona, Alaska, Florida, Minnesota, Indiana and Canada counted 43,792 birds and documented 121 species in and around the Havasu National Wildlife Refuge.
In 2008, 26 volunteers recorded finding 10,954 birds and 112 species.
The American coot accounts for the discrepancy between these counts. More than 27,000 of these waterfowl species were tallied this past December, compared with just 3,261 in 2008.
"We had great participation (from volunteers) for the 2009 count," said DeeDee DeLorenzo, event coordinator for the Audubon Society. "The more eyes we can have in the field, the more thoroughly we can canvass the refuge. All volunteers did a great job of documenting the different species and keeping an accurate count of the overall numbers."
DeLorenzo added that the counts are vital to monitoring the status of resident and migratory birds across the western hemisphere.
"This effort will evaluate the status of bird species in both the breeding and non-breeding seasons," she said. "The Christmas Bird Count analysis will also focus on how birds may be reacting to global climate change."
During the 2009 count, the American coot was the most visible of the birds, with a final count of 27,226. Some other common sights included 3,049 snow geese, 2,857 red-winged blackbirds, 1,582 northern pintail and 774 great-tailed grackles. Several rare bird sightings included the Caspian tern and mountain bluebird.
Participants paid a $5 fee to help offset the cost of publishing the results and maintaining the Christmas Bird Count website at www.audubon.org/bird/cbc.
Those interested in viewing wildlife will have a few different upcoming opportunities, including the Great Backyard Bird Count today through Monday (Feb. 15), the Wings and Wildlife Festival March 11-15 in Laughlin, Nev., and the Verde Valley Birding and Nature Festival April 22-25 in Cottonwood.
To find out more about these events and/or the 2010 Havasu bird count, call DeLorenzo at 928-758-2707 or e-mail her at poncho@citlink.net.
Log onto www.wingsandwildlifefestival.org for additional information about the Wings and Wildlife Festival. To learn more about the nature festival in Cottonwood, call Game and Fish official Zen Mocarski at 928-692-7700, ext. 2301, or visit www.birdyverde.org.