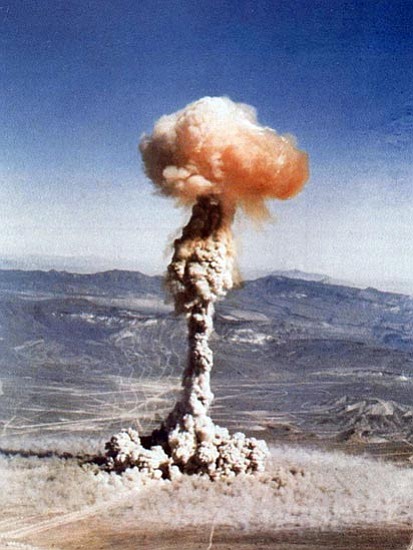 Originally Published: February 1, 2010 11:28 p.m.
PRESCOTT - When the U.S. Government began testing nuclear weapons between July 1945 and November 1962, about the only things test officials were sure of was that the bombs made big explosions and intriguing mushroom clouds.
Since then, scientists and doctors have identified the deadly effects of radiation poisoning.
Representatives from the Radiation Exposure Screening and Education Program (RESEP) offer an educational lecture forum at 9 a.m. Thursday at Sharlot Hall Museum Library and Archives, 115 S. McCormick St., in Prescott.
"Commonly known as the 'Downwinder Program,' RESEP helps individuals who live, or lived, in areas where U.S. nuclear weapons testing occurred," Sharlot Hall archivist Scott Anderson wrote in a press release. "The RESEP website lists Arizona as a high impact state."
The Health Resources and Services Administration, which is an agency within the U.S. Department of Health and Human Services, oversees the radiation exposure program.
The Radiation Exposure Compensation Program offers compensation payments from $50,000 to $100,000 for specific cancers and chronic diseases that may have resulted from radiation exposure. Sharlot Hall Museum Archives is one of the statewide locations where residents can search for proof of residency during the testing periods in order to file a claim for compensation.
The Health and Human Services Department's website identifies persons who may have been exposed to radiation between 1942 and 1971: uranium mine and mill workers; uranium ore transporters; on-site participants; and downwinders.
The department's website identifies downwinders as people who were "exposed to fallout from the atmospheric detonation of nuclear devices at the Nevada Nuclear Test Site due to their physical presence" in certain counties in Nevada, Utah and Arizona.
The website lists Arizona counties where residents may have been exposed as Yavapai, Apache, Coconino, Gila, Mohave (north of the Grand Canyon,) and Navajo.
Between 1945 and 1962, the U.S. Government exploded 227 nuclear weapons above ground, and exploded 882 below ground. Most of the nuclear fallout occurred from above ground explosions.
During tests, no one required participants to wear protective clothing or even to take shelter, and no one warned or evacuated people that could be in a fallout zone. Sources of radiation contamination include touching fallout debris, breathing contaminated air, and eating or drinking contaminated food and liquids.
The U.S. Government pays for a health clinic in Arizona to treat radiation-related illness. The Arizona Radiation Exposure Screening Program's North Country HealthCare is located at 2920 N. Fourth St., in Flagstaff. The clinic's telephone number is 522-2466, or 774-6299, and its website is www.northcountrychc.org/content/radiation-exposure.
For information about Sharlot Hall's lecture forum, call Scott Anderson at 445-3122, or visit www.sharlot.org. Information about RESEP is online at ruralhealth.hrsa.gov/radiationexposure.