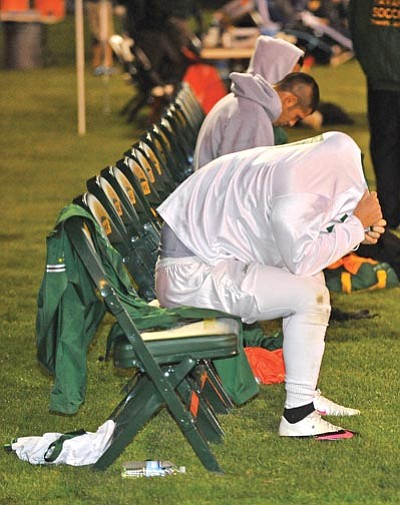 Originally Published: December 30, 2010 10:10 p.m.
For 21 straight seasons, from 1989-2009, the Yavapai College men's soccer program literally dominated the Arizona Conference, claiming the championship in each one of those campaigns while garnering a whopping seven National Junior College Athletic Association (NJCAA) Division I national titles during that span.
Roughriders coach Mike Pantalione, who built the well-respected program from the ground up in the late 1980s, has been at the helm the entire time. And his teams have pieced together a phenomenal overall record of 477-39-15 (.912 winning percentage) that spans 22 seasons.
In fact, over the past two decades, no other NJCAA Division I program in the nation has performed better than Pantalione's Roughriders, as they quickly became the envy of the junior college soccer universe.
However, as any honest coach, player or fan will tell you, most sports dynasties at any level of athletic competition simply don't last that long.
Unfortunately for the Roughriders program, the 2010 season marked the end of a truly remarkable run.
For the first time in team history, Yavapai failed to capture an Arizona Conference crown as the league runner-up. And despite qualifying for the Region I, Division I playoffs, the Roughriders posted their worst single-season record at 15-5-1.
The Roughriders lost three of their first six league contests and split with Arizona Western College - the eventual 2010 conference champion - for the first time. (Until this fall, Yavapai had lost only once to the Matadors dating to 1989.)
YC eventually bounced back nicely down the stretch, however, winning four of its last five regular season games before succumbing to Pima Community College, 4-1, in a Region I, Division I playoff at Ken Lindley Field Oct. 27.
But, most importantly, the Roughriders did not qualify for the national tournament, something that had not happened to Yavapai since 1999.
Although this season was excruciatingly disappointing for Pantalione, the chinks in YC's steel-like armor started to surface in 2009.
The Roughriders posted the program's first-ever five-loss campaign last year after having lost no more than three games in a single season - which happened just a trio of times in 1995, 1999 and 2000. Yavapai had to scratch and claw its way to a conference title about as hard as it ever had before. And after winning back-to-back national titles in 2007 and 2008, the Roughriders notched a fifth-place finish at nationals in Trenton, N.J.
In the offseason, Pantalione lightheartedly referred to the 2009 campaign as his "mulligan" - meaning that he would gladly accept a well-deserved do-over. He likely could not have imagined that he would rather have made that statement this winter instead.
"When you look at it on the surface, it wasn't a bad season," Pantalione said in reference to 2009 right before the 2010 campaign began. "But when it comes to Yavapai standards, our goal every year is to compete for a national championship. As a result of being eliminated in the national quarterfinals, our objective was not met."
Prior to this season, the 'Riders concluded the last decade with 10 straight national tournament appearances, six national championship game appearances and four national titles.
In 2010, Yavapai entered the campaign with a preseason No. 5 national ranking, but it buckled under the pressure that inevitably accompanies living up to the hype.
This past year, Pantalione faced a daunting task of essentially recruiting two teams. He brought in an entirely revamped squad, complete with 22 new players on a 25-man roster. Eight athletes who were freshmen in 2009 did not return, leaving Yavapai with only three sophomores.
In key stretches throughout the 2010 season, a lack of chemistry, experience, focus and a bit of talent seemed to haunt the Roughriders.
Before the campaign started, Pantalione said he thought he had a "quality nucleus" of athletes for the next two seasons. However, he admitted that several Arizona-based recruits had turned down offers to play at Yavapai to attend four-year universities.
The turnover of players that Pantalione has endured on a yearly basis since the early 1990s appears to have finally caught up with the program. Whether that changes in 2011 is anyone's guess. But if Pantalione's track record means anything, the cerebral coach's team will be back on top sooner rather than later.
One of Pantalione's most telling statements on that subject also came prior to the 2010 season.
"A lot of times we're the victim of our own success from the standpoint of bringing in academic qualifiers - and we allow freshmen who want a four-year university," said Pantalione, who had more than 24 former players competing for other college soccer programs this past fall.
"Between that and our departing perfect class - the last few members from that 2008 26-0-0 (perfect record) team - we're basically left to start over."