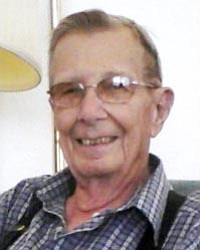 Originally Published: December 21, 2010 10 p.m.
Robert "Lee" Hoehle Sr., 85, passed away peacefully in Chino Valley, Ariz., on Dec. 9, 2010. He was born in Muscatine, Iowa, on May 14, 1925, to Leroy and Irene (Beanblossom) Hoehle.
Robert attended Washington Iowa High School and could not wait to join the armed forces, successfully lying his way into the U.S. Marine Corps at the age of 17. He later served his country in the U.S. Coast Guard Auxiliary. He spent his remaining career as a Journeyman Sheet Metal Smith and retired in 1986. His hobbies included fishing, boating and woodworking.
He is survived by his wife, Edna Gast Hoehle, to whom he was married for 67 years. He is also survived by his brother, Terry Hoehle of Minnesota; his son, Robert L. Hoehle II and wife Ann of Des Moines, Iowa; his daughter Eileen M. Morehead and husband Dan of Chino Valley, Ariz.; his grandchildren Robert L. Hoehle III, Jerry Hoehle, and their mother, Marjorie, all of Des Moines, Iowa, Sean Sojourner of Casa Grande, Ariz., Daniel Lee Morehead of Federal Way, Wash., and Claudette Haverfield Johnson of Chino Valley, Ariz.; and 13 great-grandchildren. He was preceded in death by his brother Wayne Hoehle of Minneapolis, Minn., and three grandsons, Troy Morehead of Houston, Texas, and twins Mathew and Mark Mueller of Rosemont, Ill.
A memorial service will be at 1 p.m. on Friday, Jan. 21, 2011, at Chino Valley United Methodist Church, with military service at 3 p.m. at Prescott National Cemetery. In lieu of flowers, the family has requested donations to Hospice Family Care Foundation, 100 E. Sheldon St., Suite 100, Prescott, AZ 86301.
Hampton Funeral Home was entrusted with the arrangements.
Information provided by survivors.