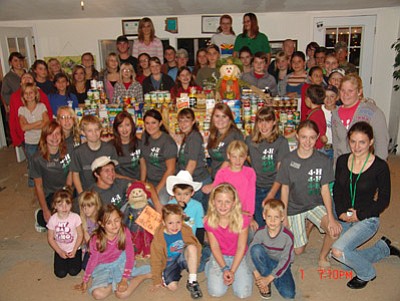 Originally Published: December 15, 2010 10:32 a.m.
Lonesome Valley Wranglers 4-H and Mayer area seniors have a lot to be thankful for.
The Thankful Project began in early November when Lonesome Valley Wrangler 4-H members answered the question "What are you thankful for?" In response to this, they wrote their answers on foam, fall-colored leaf shapes.
After they collected leaves from 4-H members, Emma and Phoebe Teskey assembled a 4x2-foot fall-themed turkey on yellow felt with the leaves forming the fan-shaped turkey tail.
"We used superior art skills and a lot of duct tape," they offered about the construction of this masterpiece.
The turkey was displayed at the annual Senior Center Thanksgiving holiday dinner. As 4-H volunteers happily served a complete dinner to more than 80 seniors and guests, they circulated a paper asking the seniors what they were thankful for.
After the results came in, it became clear that the seniors and Wrangler 4-Hers aren't that different. Family and friends were the most important to both groups, with love of life for the seniors and religious affiliation coming in third for the 4-H group.
More like this story