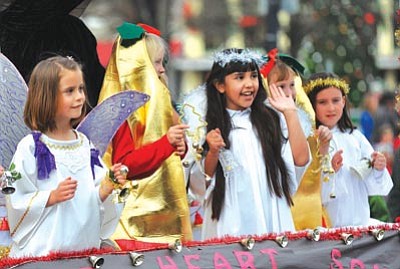 Originally Published: December 4, 2010 9:58 p.m.
PRESCOTT - In the 46 years that Linda Randall has lived in the Prescott area, she estimates she's attended the city's annual Christmas Parade downtown about 20 times - and she hasn't grown tired of the experience.
But with an event that hasn't changed much through the years, except for the fact that it's a bit larger, what keeps her coming back?
It's simple: the family tradition associated with it.
Standing next to her husband near the corner of Gurley and Cortez streets early Saturday afternoon as 111 entrants - including automobiles, motorcycles and marching bands - paraded by her with the theme "The Bells of Christmas," Randall reflected on the past with fondness.
"As far as the parade goes, it's nice to have more local people coming than, say, the Fourth of July Parade, when we have so many out-of-towners and you can't even walk," Randall said. "Everyone brings their family and friends, and that's what I like about it."
The weather was near perfect Saturday, with temperatures hovering in the upper-60s under partly cloudy skies as thousands lined Cortez, Goodwin and Montezuma streets.
Speaking on behalf of Parade Chair Beverly Williams, Parade Coordinator Harold Viehweg, who is with the Prescott Chamber of Commerce, said officials were happy about the conditions and the fact that there were few gaps along the procession because of the big number of entries.
On occasion in the past, the skies have opened up during the parade, bringing snow and rain showers along with a bitterly cold wind.
"It's just very nice," Randall said. "It's almost hot."
Over the holidays, Randall will spend time with family and plans to attend the popular Acker Showcase in "Arizona's Christmas City." Several hours before the holiday lighting at the courthouse plaza, she, like most everyone else downtown, was feeling energized.
"There's always so much decorating, and I guess that's why (we got the Christmas City name)," said Randall, who used to watch the parade with her parents and siblings, including two sisters who still reside here.
Randall's husband, Howard Eisenmann, a retired UPS driver who has been here two decades, said he still goes to the parade to see the people he has met through the years who are strolling through the procession and having a grand time.
"I got to know a lot of the people in town, so it's neat running into people I haven't seen in 15-20 years," he said.
Sitting on a bench next to Howard and Linda was Mario Gomez, a 47-year resident of Prescott who came to see his son in the parade. He agreed with Linda that the event has grown, although it has pretty much stayed the same.
"There's a lot of new people in town, and that's why everybody wants to see what's going on in Prescott," Gomez said.
Amanda Satterlee, a local resident who has attended the parade for 13 years, brought her daughter Kaylee, 11, as well as her boyfriend's daughter along in hopes of making lasting memories. Kaylee, a fifth-grader at Territorial Elementary School in Chino Valley, enjoyed watching her sixth installment of the popular event.
"It's a great way to get into the holiday spirit and see people out there that you usually don't see on a day-to-day basis," Amanda said. "A lot of people come out to support the community, and a lot of the community participates in most of the functions we have here."
Several hundred feet away, near the Cortez and Goodwin street side of the parade route, Renee Weyts, a native of Phoenix who now lives in Prescott, and Jay Uldrych were soaking in the festivities as newcomers. Uldrych, a longtime midwesterner who currently lives in Phoenix, was snapping photos to chronicle the experience. He plans to eventually move here.
"I love parades, I love the weather, and I like the marching bands a lot - that's my favorite," said Weyts, who planned to hang out downtown with Uldrych for the courthouse lighting. "I just moved here to Prescott this year, and I'm here to stay."