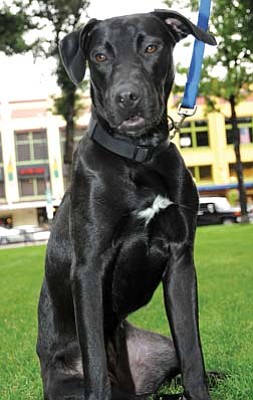 Originally Published: August 22, 2010 9:27 p.m.
Mercedes, a 9-month-old black Labrador mix who had previously been on the list of animals to be euthanized at the Yavapai Humane Society, recently was adopted by a family in Beverly Hills, Calif., who saw a YouTube video of her and knew she was right for them.
Ellen Lavinthal, who runs Animal Alliance in Los Angeles and hosts an animal issues show there as well, said the video of Mercedes came to her through a friend.
"We had recently lost our female black labrador who passed away," Lavinthal said. "When I saw Mercedes' video and learned she gets along well with other dogs and children, I knew she would be right for us."
Lavinthal said her family currently has a male German shepherd, and a male cocker spaniel who were both rescue dogs, and some cats.
"I was shocked she was so close to the edge," Lavinthal said about learning Mercedes had been on a list to be euthanized.
Mercedes had been put on a list to be euthanized after a volunteer at the shelter thought she was too aggressive, said KayAnne Riley, communications director for the Yavapai Humane Society. But Mercedes was taken off that list after Ed Boks, executive director of the Yavapai Humane Society, and eight volunteers tested Mercedes and found no signs of aggression, Riley said.
Since Mercedes had been in the shelter for a few months, Boks decided to make videos of her and other pets who were having a hard time finding homes.
"This is a program I had implemented when I was in Los Angeles that was very successful," Boks said. "We had a 100 percent success rate adopting those pets out."
So far, three of the six pets featured in the YouTube videos, which are also posted on the Yavapai Humane Society website, have been adopted, Boks said.
"Watching the video was such a powerful thing," Lavinthal said. "They're set to music and the way they're presented they're so watchable."
The videos let people see the real personality of the animal while it's playing outside, which is something you don't often see in a kennel, Boks said.
Boks said he asked Robert Cabral, the man who had produced videos for him in Los Angeles, to come out here and train a volunteer. Cabral trained Tommy Banks for two days and helped him make his first video of Buck.
Cabral is the founder of Bound Angels, a group that helps rehabilitate dogs, finds homes through videos and fights court battles for dogs sentenced to death.
Since then Banks has done about two videos a week and soon there will be videos of the cats at the Yavapai Humane Society as well, Boks said.
Lavinthal said she was surprised Mercedes hadn't been adopted earlier, because Labradors are such friendly dogs. Julie Brewer, who is fostering Mercedes at her home until she brings Mercedes to Lavinthal's home after Labor Day, agrees.
"I just fell in love with Mercedes," said Brewer, a shelter volunteer. "I walked her five to six times a day for the past two months at the shelter."
Mercedes is getting along well with Brewer's four other dogs and all the one-on-one attention, Brewer said.
"We hiked nine miles this morning on the trails, and Mercedes enjoyed sitting and listening to the birds and watching the squirrels," Brewer said. "She's been playing ball at our house and getting lots of hugs and kisses."
Brewer and Boks said they're hoping to find a home for Mercedes' kennel mate, Maverick, soon. Maverick is also featured in a YouTube video on the Yavapai Humane Society's website.
"We want to do as much as we can to get the dogs adopted," Brewer said.
Brewer will be driving with Mercedes to her new home soon and helping her transition to her new family.
Lavinthal said her family looks forward to welcoming Mercedes, giving her plenty of attention, and letting her enjoy roaming their two-acre property as well.
Visit the Yavapai Humane Society's website at www.yavapaihumane.org to view the videos.