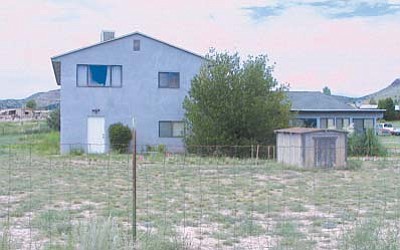 Originally Published: August 22, 2010 5:06 p.m.
At least 50 rounds shattered a normally tranquil neighborhood in Chino Valley Saturday when two rival motorcycle gangs opened fire.
Yavapai County Sheriff's deputies and police officers swarmed the area after 911 calls about gunfire on Yuma Drive west of Chino Valley alerted them to the trouble. Helicopters circled overhead as heavily armed SWAT team members descended on the rural area.
The shots rang out as gang members confronted each other along Yuma Drive between Road 3 and 4 North shortly after 12 p.m. The homes involved included 2640 Yuma Drive used by members of the Hell's Angels and 2920 Yuma Drive, a few blocks away that was used by members of the rival Vagos gang, officials said.
Deputies arrested 27 suspects and booked them into the Yavapai County jail in Camp Verde. Officers charged the suspects with attempted homicide, aggravated assault, endangerment, participation in a criminal street gang and unlawful assembly, according to Dwight D'Evelyn, a spokesman for the Sheriff's Office.
A least five people sustained injuries described as not life threatening and a medical helicopter took one wounded person to a hospital in Phoenix. No civilians were injured in the gunfight.
Detectives confirmed that members of the Hells Angels and Vagos gangs took part in the shootout. Previously, a state Department of Public Safety spokesman said a power struggle between those two gangs has been ongoing in northwestern Arizona, leading to a series of violent assaults.
D'Evelyn said Sunday that gangs have been rivals for years, referencing a motorcycle gang fight between the Angels and the Mongols in 2002 in Laughlin, Nev., that left three people dead at a casino during the annual River Run gathering. That incident also left 16 people injured. About an hour later a motorist found another motorcycle rider with gang ties shot to death on Interstate 40 in California, about 60 miles from the Arizona border.
In 2003, officials arrested a Chino Valley man during a raid led by the Federal Bureau of Alcohol, Tobacco, Firearms and Explosives (ATF) at a Yuma Drive house, that the Hells Angels referred to as house their Skull Valley clubhouse, confiscating guns, money and ammunition. That arrest was part of a statewide effort targeting outlaw bikers involved in illegal firearms, drug trafficking and murder-for-hire, officials said at the time.
Saturday's violent flare-up may have been sparked by one gang stealing a motorcycle from a member of the other gang, according to a woman who lives in the area who spoke to reporters Saturday. However, D'Evelyn said that the cause of the shooting remains under investigation and detectives continued to recover and examine evidence Sunday. They also impounded several motorcycles found at the crime scene.
Gang cohorts apparently drove at least one injured gang member away from the shootout and detectives continue to seek him. However, D'Evelyn did not release a description of that person Sunday.
The Chino Valley Police Department, U.S. Forest Service law enforcement, DPS, Prescott and Prescott Valley police departments, and gang specialists from the Gang and Immigration Intelligence Enforcement Mission and the Arizona State Gang Task Force assisted the YCSO.
Police blockaded roads in the area as they investigated the gunfight, keeping onlookers and the press away.
Meanwhile, more information, including the names of those arrested, will be released today, D'Evelyn said.
The Associated Press contributed to this report.