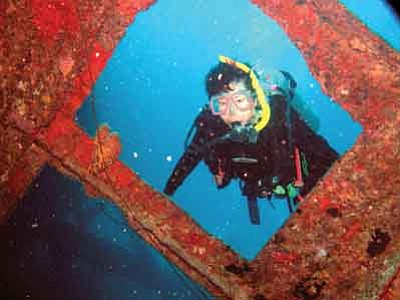 Originally Published: August 15, 2010 9:50 p.m.
Colorful coral reefs, unusual plants and multi-hued fish - few people ever get to see them firsthand. One way to experience them is through underwater ocean photography, which is said to have a longer history than diving, and has developed into a refined art form.
Ron and Sharon Tom of Chino Valley took up scuba diving in 1985 and have photographed many beautiful and unusual sights in oceans throughout the world.
"This is a great sport for husbands and wives to do together because you really have to depend on each other," Ron said.
Because Ron and Sharon strictly adhere to the safety rules of diving, they have never had any serious injuries during their dives over the years.
"The scuba divers' motto is: 'Plan your dives and dive your plan.' All successful scuba divers abide by this," Sharon said.
They had been diving for about five years before Ron started underwater photography. They took their first underwater photos in California, shooting a kelp forest. Of course, Ron has his favorite sights to photograph, too.
"One of my favorite things to photograph is small critters, like cuttlefish. They are a real challenge because of the light in the water," Ron said. "Although we have dived to depths of 150 feet, we stay at about 40 feet because the photography is best at that depth."
Sharon likes night diving the best.
"I love night diving because the sea life is so vibrant then," she said.
Ron and Sharon now dive once a year. This September they will travel to one of their preferred places to dive - Bonaire, an island next to Aruba and about 26 miles from Venezuela.
Sharon and Ron have had many wonderful experiences in the beautiful undersea world, and both have their own special feelings about it.
"When I dive, I feel at one with God, and I feel like part of His kingdom," Sharon smiled.
Ron said, "What I like best about diving is the serenity and the discovery of a new world."