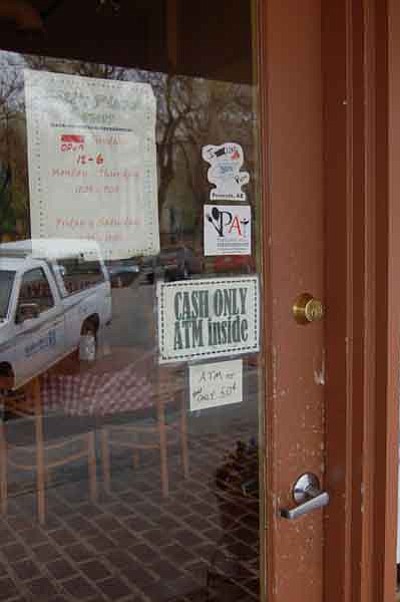 Originally Published: April 24, 2010 10 p.m.
Trish Bauer has a connection with a few tri-city area businesses.
Bauer, owner of Sweet Potato Café, is one of a small number of business owners who only accept payment in cash.
"It's too time-consuming; it's just not worth it," she said.
Bauer recently got an ATM machine for her restaurant, where customers can use their plastic to get cash for $2.
Bauer said a few customers grumble about it, but it's really not a big deal.
"I've had a lot of people say they don't mind. It's been nice," she said. "I'm into cooking, cleaning - that's what I do. I don't want to do the paperwork."
So Bauer made a roughly $1,500 investment to bring in the ATM and cover the maintenance costs.
Bauer believes most customers are fine with paying cash because they don't want to keep paying for their meals long after they're gone.
"I think it's because people don't want debt," she said.
Bauer said she got the machine to make it easier for customers who don't have enough cash in their wallets.
"We just want it for convenience," she said.
Rhonda Starin, one of Bauer's waitresses, sees it both ways.
Starin's 20 years of waitress service experience includes working at restaurants where they take plastic.
While she understands the convenience, Starin also sees the benefits in only taking cash.
When a customer puts the tip on the charge, it means waiters like Starin either wait nearly a week for the charge to go through and get that money, or the owner must front the waiter the tip.
"I'd rather have my cash today," she said.
A popular pizza place in downtown Prescott only accepts cash, too.
Ashlee Elkins, manager at Bill's Pizza, said the cash-only policy began when the restaurant opened more than three years ago.
Standing near the restaurant's ATM machine, Elkins said one drawback is the people who bring just enough cash to pay for their meals and leave small tips for servers.
Otherwise, "it doesn't seem to be that big a deal with a lot of people," she said.
More like this story